Case Studies
BAUER KOMPRESSOREN Australia
BAUER KOMPRESSOREN Australia is a subsidiary of BAUER GROUP Germany operation and had been awarded a contract for the manufacture supply and installation of compressed natural gas compressors for fueling the NSW State Transit Authority buses with natural gas.
Accord Acoustics tendered for the manufacture, supply and installation of the acoustic package for the compressor cells.
We were provided with the acoustic criteria as specified by BAUER KOMPRESSOREN and their acoustic consultants, Noise and Sound Services (Mr Ken Scannell).
To achieve the noise criteria Accord designed the roof construction (including steel work), the ventilation systems within the enclosure complete with inlet and outlet silencers to maintain adequate cooling for the compressor while maintaining a low pressure loss across the entire system. Acoustic double doors with a concealed hinge system for access to the compressors were provided.
Noise level in the compressor room was 105 dB(A)
Testimonial by Acoustical Consultant (Ken Scannell)
The works where excellently carried out by Accord and the acoustic criteria at the nearest neighbouring premises were met. We would recommend Accord Acoustics every time for this type of work.
Ken Scannell MSc MAAS MIOA
See below the acoustic products pictures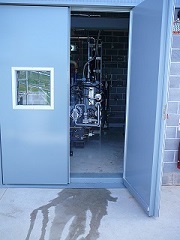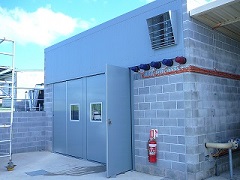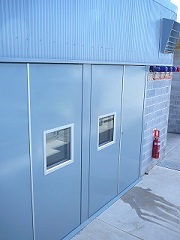 Contact us on (02) 9631 6000 for acoustic engineering project inquiries or
---
BlueScope Steel
Accord Acoustic tendered to BlueScope Steel at the time when No. 6 Blast Furnace was to be built. The silencers to be supplied were for the Snort Valve discharge stack and the Paul Wurth Top Equalising System.
Accord Acoustics was provided with the noise data and criteria to be achieved at the boundary along with the design flow and pressure. Accord was successful with the tender and was awarded the contract for both silencers.
The design conditions for the Snort Valve Silencer was 350,000 Nm3 per hr at 440 kPa (g) and 220 degrees Celsius. The Equalising Silencer was designed for an operating pressure of 250kPa (g) at 70 degrees Celsius and was designed to vent the gas from the blast furnace raw material charging system before another charge was fed into the furnace.
The design details and drawings for both silencers were submitted to BlueScope Steel engineers for approval prior to fabrication and delivery. Both silencers were built in our workshop in Sydney under the close scrutiny of BlueScope Steel engineers (Reference: Brendan Moss - Senior Process Engineer of BlueScope Steel)
We subsequently received a repeat order for BlueScope Steel's No. 5 Blast Furnace for the silencers of similar duty.
See below the acoustic products pictures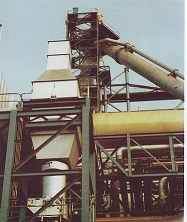 Contact us on (02) 9631 6000 for acoustic engineering project inquiries or