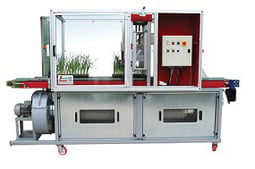 Machine for plant trimming e.g. onions, celery, fennel, salads, lettuce, aromatic plants

The trimming machine has a suction hose and extractor to collect the cuttings to prevent mold and diseases forming on the trimmed products and trays.

An electrical control box controls conveyor belt speeds and cutting blade speeds electronically. Cutting heights and different tray sizes are

easily adjusted

for in seconds.


Maximum width of trays is 400mm with a capacity to trim between 200 to 800 trays per hour.
Height adjustment from 30 – 250mm
Handy waste drawer for recovering trimmed product.
See video below for demonstration:
1. Cutting Grasses
2. Trimming Lettuce
3.
Da Ros Trimmer – Baby Leafs Harvest Line
Options:

Wheels for moving around the nursery.

Why purchase Da Ros Trimmers from C-Mac
Local technical support & maintenance for Trimmer
C-Mac is the exclusive Da Ros partner in Australia with direct and established contacts within Da Ros to obtain spare parts and technical support.
Da Ros brand is world renown with many years of experience and a proven track record. Established leaders in the field of nursery automation equipment
High quality Italian made
Click here (go to Da Ros's website) to see more details on products.
To know more about Da Ros automation products,
Call us on (02) 9631 6000 OR