Potting Machine TR & TV Series
TR series is the basic entry level for potting machines

With a 1,800 litre soil storage hopper, the media is elevated and discharged through chutes which can be either single or double. Soil can recycle continuously at a rate of 100 litres per minute or be regulated using a foot pedal. Pots are manually loaded and filled on the grilled work table. The table being grilled allows for the excess soil to be recycled. A vibrating table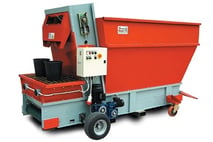 option is available so soil density can be controlled.

Suitable for pots ranging in size from 100mm to 400mm.

Machines have wheels and forklift slippers for relocating.

Double opening hungry boards can be fitted to the hoppers to increase their holding capacity.
TV1 has 3,000 litre soil storage hopper. The electronic control of the vibrating table makes it possible to pack the media in the pot evenly and quickly.
Potting Machine IV Series
Da Ros's potting machines are suitable for filling plastic pots automatically. Complete with a soil hopper with capacities 700 to 1,800. Hoppers can be to the rear, side and front of the machine.
See pictures on the right in order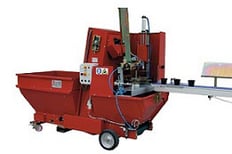 Hopper be to the front
Hopper to the side
Hopper to the rear
The pot transport conveyor belt which passes under the filling chute also has a built in vibrator unit.
There is no hazard for the operator because the pots moving forward under the chute on the smooth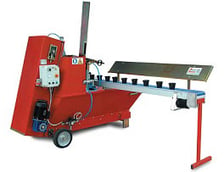 transport belt are laterally guided. Any split soil remaining on the transport belt falls onto a recovering bottom belt conveyor which then moves the spilt soil back to the main hopper.

Standard rotating table style machines are available for filling pots, dibbling a hole, fertilizing dispensing and finally transfer of the pots onto a pot transport belt conveyor for inserting of plants or seeds either manually or with a transplanter or seeding machines.

Pots 80mm – 240mm can be accommodated and dispensed either manually or automatically with the use of a pot destacker (optional). The speed of potting media filling, pot movement and vibration can be easily controlled by the electrical control panel.

Soil discharge rates are 250 litres per hr allowing 500 to 2,500 pots per hour to be processed.

Feeding conveyors for pot dispensers can be incorporated into the potting machine.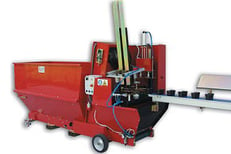 The operation speed of the potting machine and the amount of potting media dispensed can be adjusted with ease.

Compressed air may be required for some of the more advanced functions.

Earthen pots can also be used if they are loaded by hand. With easy adjustment, the potting machine can adapt to various kinds of pots.

Click on the image on the right for technical information
See videos below for demonstration
Fertilising dosing
Blade seeder suitable for sowing herbs
Bar seeder with pneumatic stops to sow herbs into pots while moving
Watering belt and tunnel
Automatic pot dispensers
In feed belts to supply pots into a pot dispenser
Transfer pot belt conveyors
Unloading rolling conveyor
Rotating table with vibrator
Soil drills from 25 to 120mm diameter
Air blowing kits for cleaning
Why purchase Da Ros Potting Machine from C- Mac
C-Mac has over 50 years of expertise in manufacturing potting machine
Local technical support & maintenance in Australia
C-Mac is an approved Da Ros partner for Australia with direct and established contacts within Da Ros to obtain spare parts and technical support.
Da Ros brand is world renown with many years of experience and a proven track record. Established leaders in the field of nursery automation equipment
Italian made quality for over 30 years
Click here (go to da ros's website) to see more specification or
Call us on (02) 9631 6000 OR