What is a Rotary table?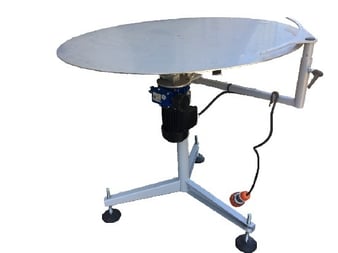 A rotary take-off table provides a buffer space at the end of a pot transport conveyor for accumulating pots rather than having them fall off the end of a conveyor or having to stop the production line to prevent this happening because staff cannot keep up or have stepped away to do another task.
It eliminates the stress on production managers of having to stop the conveyor, potting machine or the complete production line.
Having a rotary table keeps the production line running until a self tracking trailer returns to unload the accumulated pots on the rotary table.
Rotary tables can increase the production rate for nurseries and reduce the hassle and pressure placed on a nursery manager. It stores or accumulates the nursery pots coming off the conveyor, advoiding stopage and interruptions to the production line.
Why choose a Da Ros Rotary Table from C-Mac?
Da Ros is known for its quality products and has a proven track record with over 30 years of experience. Da Ros has been recognised in providing excellent nursery and horticultural machinery worldwide.
C-Mac is an approved and exclusive Da Ros partner in Australia.
With 50 years of experience in the nursery & horticulure industries, C-Mac provides full support on all Da Ros's automation machinery because of C-Mac's commitment to growing and improving the horticultural indistry in Australia. C-Mac has extensive capability in sheetmetal, engineering and maintenance services.
C-Mac provides standard size rotary tables but can also design custom-made equipment to meet your specific nursery requirement.
Da Ros Rotary Table Specifications:
Height 950mm to top of table
3 x adjustable legs with + and - 100mm of adjustment in height
1,000mm diameter table with an option for 1,800mm diameter table.
Pot accumulating arm is height adjustable
AEG 415 electric volt motor
"Motovario" variable speed adjustable gear box
Want to know more about the Da Ros' Rotary Table? You can contact C-Mac now or click the button below to get a FREE quote.
Click here to see other Da Ros Nursery & Horticulture Automation Products
To know more about Da Ros Horticultural Automation products, Call us on (02) 9631 6000 OR
To know more about Da Ros automation products,
Call us on (02) 9631 6000 OR