Automatic tray washing machine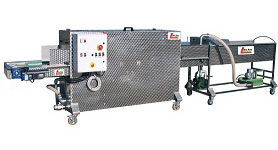 Chlorine baths are no longer required, convert to an automated, environmentally friendly process. No longer worry about the effects of staff manually washing trays and the impact it maybe having on their health.

Suitable for washing trays, crates and rigid items made from polystyrene, PVC or polypropylene.

The trays are placed manually or with a de-stacker in a horizontal position on a dual high gripping conveyor belt that has a variable speed control.
The belt carries the trays into the tank where they are washed with eight (8) strageically placed nozzles to ensure all dirt is removed. (2 rotating and 6 fixed). The nozzles have a maximum of 12 bar of pressure which is produced by a multistage centrifugal pump located inside the tank structure.
The dirty wash water is recycled and filtered by a stainless steel filter. The used water needs to be changed after 6 – 8 hours of operation. The water tank is fitted with two (2) drains, filling nozzle and an overflow outlet.

On request, rotating brushes and/or a fan can be fitted. Fan is used for drying trays and containers before final disinfectant chemical treatment. This is so the disinfectant isn't further diluted with excess water left on the trays.

Disinfectant treatment is carried out once the trays exit the wash tank and dried. Two (2) fixed nozzles located on the treatment bath fed by a separate centrifugal pump draws disinfectant liquid from a container and sprays it onto the trays. Excess liquid is recovered in the same container.

Both the tray washer and disinfectant spray unit come mounted on wheels for easy relocation/storage when empty.

All the electrical controls are contained within a electrical waterproof control box mounted on the side of the washer unit.
Made entirely from stainless steel
Motors have a variable speed control for adjusting belt speeds to ensure maximum efficiency and cleanliness.
Max tray size: 700 x 500 x 200 mm
Production capacity 200 to 400 trays per hour.
See Da Ros's tray cleaner video (no tray washing video available at this time)

Options:
Tray cleaning (see video above)
Rotating cleaning brushes
Fan for drying
Disinfecting spay module
Why purchase Da Ros Tray Washer from C- Mac
Local maintenance & technical support in Australia
C-Mac is an approved Da Ros partner for Australia with direct and established contacts within Da Ros to obtain spare parts and technical support.
Da Ros brand is world renown with many years of experience and a proven track record. Established leaders in the field of nursery automation equipment
Quality Italian made (over 30 years)
Click here and go to Da Ros's website to see more details on products.
To know more about Da Ros automation products,
Call us on (02) 9631 6000 OR