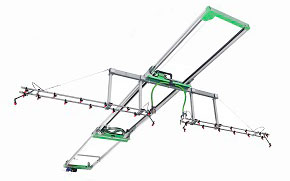 Watering booms are made of modular aluminium profiles



Watering booms consist of:




Kit of trolleys to transport the boom and return watering pipe
Double rail system in aluminum profile + brackets, water pipe 40mm (Note: price per metre to suit green house length)
Moveable Boom consisting of:
Double ¾" stainless steel water pipe and fittings
Distance between nozzles is 500 mm with double nozzles on the externals
Single Arag spray nozzles (Note: price per metre to suit green house width)
Touch screen control panel suitable for either one or two watering beams.
Options:
Independent nozzles for side irrigation either 2 or 4 nozzles
Remote control operation for single or multiple watering booms
Dosatron Unit for accurately dosing a liquid or soluble concentrate into water
Tri-jet spray nozzles
Click here for complete specifications and accessories
Why purchase Da Ros Watering Booms from C- Mac
Local technical support & maintenance
We are the approved Da Ros partner for Australia with direct and established contacts within Da Ros to obtain spare parts and technical support.
Da Ros brand is world renown with many years of experience. With a proven track record, it is an established leaders in the field of nursery automation equipment
Italian made quality
Click here and go to Da Ros's website to see more details on products.
To know more about Da Ros automation products,
Call us on (02) 9631 6000 OR