Nursery seeding machines from Da Ros have several models available depending on customers requirements.
Blade Seeders
Nozzle seeder S6 suitable for seeding multiple seeds into a single pot (basil etc.) Pneumatic operation
See picture below: S6 placing seeds into pots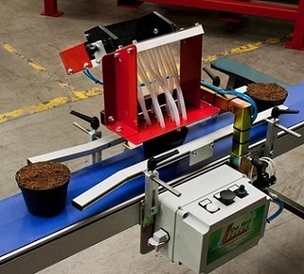 Semi-automatic bar seeders with Nozzles SEM 100 series
Are designed for small quantities and medium needs. Pneumatic operation.

Due to the "row by row" dibbling and "row by row" seeding operation, small volumes of seed (naked, coated or pelleted) can be sown into many different types of trays.

Adjusting seeding bars and/or nozzles is quickly and easily done, making it possible to seed different sized and varieties of seeds into the various cell configurations in trays.
Extensive range of seeding bars and nozzles are available to suit the many different seeds and trays.
Machine parts:
Support frame
Movable tray holder
Seedling head
Suction jar for left over seeds
See Video below: Da Ros Seeder Operation Demonstration - SEM100

For more information about Seeder SEM100, click here to see extracts from the machine manual
See Video below: Seeding trays

Click on the image below for technical information located on Da Ros website:
Bar Seeder LS series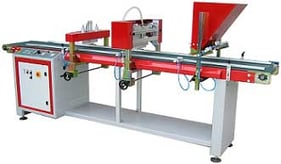 Bar seeder with several Da Ros units/modules put together in a line make up this production machine e.g.Model LS7, moves trays along a transport belt then dibbles holes in media, places seeds in holes, covers with Vermiculite or perlite, waters and re-stacks trays (optional) ready for dispatch to the green house.
The machine is electric-pneumatic and fully adjustable along with belt speeds all controlled by a dust proof touch screen control panel.

Machine parts
Support frame
Tray advancement conveyor belt
Dibbling unit
Bar seeding unit
Drum covering unit for vermiculite or perlite and / or
Belt covering unit for peat, soil media or sand
Watering unit
End roller conveyor for run off of stacked trays (optional)
Coloured touch screen control
Bar & Drum Seeder Combination LR 400 Series
An integrated electronic combination seeder system with a "seed holding drum assembly" along with a "bar sowing unit" for low and high volume seeding operations on the one machine.
Having the capacity of high production seeding rates but also capable of a "row by row" bar system which enables seeding where a small quantity of seeds (naked or pelleted) are required. Having this flexibility enables the sowing of many varieties of difficult sized seeds and quantities.
The drum seeder and conveyor belt have independant speed control making it possible to deposit multiple seeds per cell without changing the drum.
PLC control allows adjustments to be simply performed. Changing drums if needed can easily be performed by the operator.
This machine can be fed by a tray filler without making electrical connections.
Seeder LR series dibbles holes in media, deposits seeds in holes, covers with Vermiculite or perlite, waters and re-stacks trays ready for dispatch to the green house
Machine parts
Support frame
Tray advancement belt conveyor
Flat dibbling unit
Drum sowing unit
Bar sowing unit
Sub-silent vacuum pump
Belt covering unit for peat or soil media
PLC control
Drum Seeder LR 600 series
Seeder LR 600 series is a integrated electronic seeder utilising a rotating drum seeder assembly. These Seeder lines can have (single, double or triple drum sowing heads).
Single drum sowing head - with independent electronic speed control on the transport conveyor belt and sowing drums, enables insertion of several seeds per hole without changing the drums.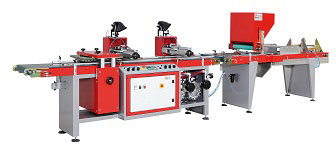 Double drum sowing heads - additionally allows seeds to be put in a staggered cell pattern.
Triple drum sowing heads - additionally allows multiple (3) different types of seed to be sown. Ideal for multiple flower colours.
These machines dibble, seed, covers with vermiculite, peat, sand or perlite, waters and stacks. The equipment is very easy and simple to adjust and change the drums making it efficient to plant different types of seeds into different types of trays automatically.
These machines can also be fed by any tray filler without making electric connections.
Additionally various units or assemblies can be added for dibbling holes in media, belt or vibrational covering with peat, vermiculite or perlite, watering tunnel or tunnels depending on water penetration required and tray re-stackers in preparation for dispatch to the green house.
Seeder drum holders are available for storing the different seeder drums you may have to keep for the different seeds. Fits neatly under the conveyor.
Machine components
Support structure
Tray transport belt
Flat dibbling unit
Drum sowing unit 1
Sub-silent vacuum pump
Drum covering unit 2
Watering tunnel
Tray stacker and discharge
Unloading roller conveyor
PLC control
See video below to see how the seedling machine works:
Why purchase Da Ros Seedling Machines from C-Mac
Australian technical support & local maintenance are available
As an approved and exclusive Da Ros partner in Australia, we have direct and established contacts within Da Ros to obtain spare parts and technical support.
Da Ros brand is world renown with many years of experience. With its proven track record, Da Ros is an established leader in the field of nursery automation equipment.
Over 30 years Italian made with high quality
Click here and go to Da Ros's website to see more specification.
To know more about Da Ros automation products,
Call us on (02) 9631 6000 or