Soil Mixer MX 1000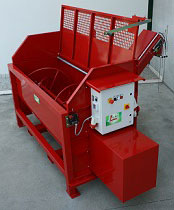 Light weight soil mixer for mixing peats in order to obtain soft and homogeneous potting media that suits cultivation.
Material suitable for use in mixer
Peat moss
Fertilizers
polystyrene
Agri perlite
Pumice
Expanded clay etc.
The mixer is specially designed and manufactured for rapid mixing (3-5 minutes) of light weight and non-abrasive potting media.
Options include:
Watering nozzles with timers and automatic unloading of the media onto an elevating conveyor with level sensors for topping up of receiving hoppers for seeding and transplanting lines, or potting or tray filling machinery.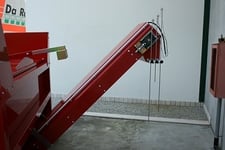 Wheels and foot pedal unloading are also available.
Machine components:
Mixing tank
Safety guarding
Watering nozzles
Unloading conveyor belt with level sensor
Accessories
See video below to see how the machine works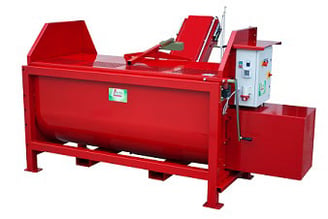 Big Bale Bunker

The Big Bale Bunker – is used to break up compressed bales of potting media e.g. peat moss bales. A vertical feed system for raising the bales against a breaking chain conveyor which then feeds loosened material into a chute.
Equipped with an electronic controller, it automatically supplies media to the receiving hopper of a seeding and transplanting production line or a potting machine. A conveyor belt option is available to supply media to two receiving hoppers.
Dosing with granular fertiliser and wetting or watering the media are available options on the Big Bale Bunker.
The Big Bale Bunker is loaded using a manual pallet trolley or forklift truck.
Machine parts:
Big Bale lifting platform
Chains with crosspieces
Unloading outlet with level sensor
Doors with safety switch
Water and dust proof control cabinet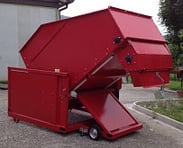 Click on the image on the right for technical information below:

Max dimension of Big-Bale
Installed power
Weight
Accessories
Why purchase Da Ros Soil Supply Equipment from C- Mac
Local maintenance & prompt technical support
C-Mac is an approved Da Ros partner in Australia and have direct and established contacts within Da Ros to obtain spare parts and technical support.
Da Ros brand is world renown and has many years of experience along with a proven track record. Da Ros is an established leader in the field of nursery automation equipment
Quality Italian made
Heavy duty Australian made mixers are also available
Click here to go to da Ros's website to see more specification.
To know more about Da Ros automation products,
Call us on (02) 9631 6000 or