Transplanter TP Series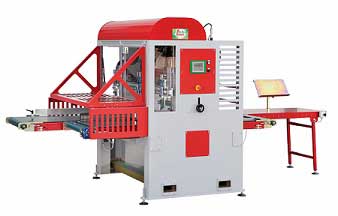 Electronic controlled transplanting machines are used to transplant seedlings into shuttle trays or pots.
The Electro pneumatic machine can be equipped with two or more (up to 16) self-driving (double-movement) fingers for accident free transplanting of green material.
Finger groups can operate either parallel with the transport conveyor (tray to pots) or row by row (tray to tray) as the transport conveyor belt passes.
Due to the electronic control, the distance between fingers when picking up and depositing can be automatically adjusted to suit the various pitched trays and pots.
Flexible programming using purpose designed software, makes for easy adjustment and simplicity in pitching fingers, minimising machine set-up times.
The machine can quickly adapt to all types of donor trays and various sized pots. Picking-up and depositing parameters such as working speed, transplanting depth, plants height, side way picking up etc can be easily accomplished without having to stop the machine from working.
The control panel has a colour display and touch screen.
An optional tray rotating unit is available to rotate trays to feed tray either straight or sideways into the transplanter.
Transplanting machines can be connected to trayfillers or potting machines.
Watering Units in stainless steel with electronic speed control are very often added after transplanting is completed.
Machine components:
Support structure
Tray transport belt
Touch screen control
Finger holding axle
5,6,8,10,12,16 independent self driven grippers
Double movement fingers
560 - 700 wide belts
End collecting table
Manual Transplanting Line
Work station tray support brackets for plant trays can be attached to back of conveyors for ergonomic posture of staff when potting. Minimises twisting. The length of the transport conveyor belt is generally dependent on the number of work stations required.
Electric Plug Depopper
Plug Depopper is a machine used for the removing young plants from trays ready for manual transplanting.
The heights of the pins can be easily adjusted due to the electric control system. The eject operation pushes out the

plugs gradually and any damage to the plant root is reduced dramatically.
Plug depopper is very practical due to the easy tray insertion functionality.
Changing to different sized popping plates enables the machine to be used with different types of trays with the maximum tray size being: 600x400x100 mm
Why purchase Da Ros Transplanting Machines from C- Mac
Local technical support & maintenance are available
Being an approved and exclusive Da Ros partner in Australia, C-Mac has direct and established contacts within Da Ros to obtain spare parts and technical support.
Da Ros brand is world renown with many years of experience and a proven track record. Established leaders in the field of nursery automation equipment
Italian made qualityand high standard
Click here and go to Da Ros's website to see more details on products.
To know more about Da Ros automation products,
Call us on (02) 9631 6000 or