Da Ros tray filler is an automatic machine that is used for homogeneous filling of polystyrene trays/boxes, plastic trays, forestry trays, cell trays or for filling of pots in various sized shuttle trays.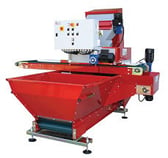 Tray filling machines are equipped with a level sensor to load the peat into the filling head automatically. With mechanical or electronic speed adjustment on the compaction rotor, vibrator and transport belt allows adjustment to tailor the density of media filling.
The tray fillers can directly feed a seeding line or a transplanter, which avoids handling and storage of trays. Various models are available depending on type of trays and shuttle trays to be filled.
Tray Filler RC Series
Tray filler RC2 with different sized soil hoppers, tray transport belt, vibrating conveyor belt, filling head and brush unit.


Production capacity up to 600 trays per hour.
Hopper capacity: 700-1800 litres
Maximum trays size
Installed power
Weight
Tray filler RC7 with additional soil outlet mill, vibrating conveyor belt, rotating brush unit, spilt soil return.

See Tray Filler RC7 Video below:
Click on the image on the right for technical information:
Tray filler RC5 has a special perforated belt (or mask belt) that stops soil media from falling in the areas/gaps between pots in a shuttle tray. Peat density can be regulated using a vibrator. The electronic control regulates amount of soil media going into the filler head.
Production capacity up to 800 trays per hour
Hopper capacity is 600 or 1800 litres
Maximum trays size 600 x 400 x 150mm
Installed power 3.3 kw, 415volt, 3 phase
Weight 730kg
See Tray Filler RC5 Video below: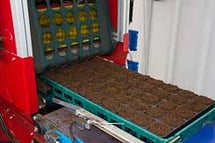 Click on an image for technical information from Da Ros Website:

See video below on how a tray filler works

(Video: Tray filling - dibbling - seeding - vermiculite coverage - tray stackerLR600)
Why purchase Da Ros Tray Fillers from C- Mac
Local technical support & maintenance
We are an approved Da Ros partner for Australia with direct and established contacts within Da Ros to obtain spare parts and technical support.
Da Ros brand is world renown with many years of experience and a proven track record. Established leaders in the field of nursery automation equipment
Italian made with high quality over 30 years
Click here and go to Da Ross's website to see more specification.
To know more about Da Ros automation products,
Call us on (02) 9631 6000 or