Acoustic Enclosures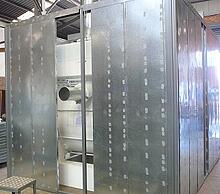 In industrial environments, noise exceeding the Australian Occupational Noise Standard will cause claims for hearing damages. Having a noise reduction program in place is crucial to ensure a friendly and safe work environment.
Industrial acoustic enclosures dramatically reduce the noise from machinery and mechanical units. Protects your production staff.
C-Mac Acoustic Enclosures are designed to provide optimum noise control through sound absorption and sound transmission loss. They provide a high level of noise reduction, for both internal and external applications.
Acoustic Paneling Enclosure Systems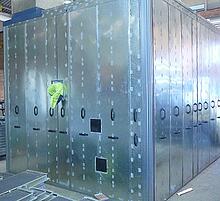 Rooms can be manufactured in, readily demountable, pre-fabricated or modular to best suit your requirements.
Acoustic Enclosures Applications:
Air conditioning and refrigeration plants
Power Generators
Compressors and Pumps
Granulators
Gear boxes
Punches Presses
In-Plant Offices and control room (Personal Noise Shelter)
Fans and blowers
Audio-metric rooms
Noise Relief rooms
Machine Enclosures
Movable Wall Systems
Barriers
Screen Walls
Electric Motor Enclousures (Motor Muff)
Acoustic Enclosure considerations
Sizing of panels and material type
Heat load within closure generated by motor and moving parts to prevent overheating
Sealing of penetrations through enclosure e.g. fan outlet/inlet/power
Provision of a silencer for fan motor air intake, may penetrate enclosure wall.
Possibly a second silencer is needed to exhaust fan cooling air
Generally ventilation on most enclosures require ventilation silencers
Material selection - Is the enclosure indoors or outdoors? What other environmental considerations?
Access for maintenance staff e.g. lift out access panels
Access personnel door panels, lighting, glass viewing panels
WH&S and fire fighting issues
Installation requirements and issues
Are acoustic access doors needed?
Why use a C-Mac Acoustic Enclosure?

High Quality
Over 40 years of experience in acoustical engineering
Guaranteed performance and results
ISO 9001:2015 Quality certified company
Short Lead Times
Over 50 years experience in sheetmetal fabrication and engineering support
In-house designers and draftsmen with manufacturing experience

A culture of looking after our customers through quick response and delivery
Customisable and Flexible
Options for demountable, or one piece acoustic enclosures
Provision for easy access for operators and maintenance staff.
Made to suit climatic conditions, corrosion and/or heat resistant
A wide range of access doors, windows and double glazed windows to suit customer specifications & requirements
Automatic doors
Ventilation systems include intake and exhaust acoustic silencers, acoustic louvres and attenuators
Forced ventillation
Removal of dissipated heat
Flame proof lighting
Provision for fire fighting systems
Suction and discharge pipelines, cabling accoustically sealed
Maintenance and ventilation requirements considered
Click here for Acoustic Products Case Study

Click here for "Plant & Equipment Finance"
Contact our experienced acoustic engineers on 02 9631 6000 or