Acoustic Doors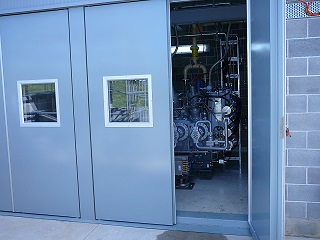 C-Mac Industrial Acoustic Doors are a specialist industrial sound proofing solution for noise leakage problems where poorly fabricated and fitted doors exist.
Acoustic doors must meet specific industrial design, WH&S regulations and engineering requirements for each individual project and specific acoustical task to control noise leakage.
What is Industrial Acoustic Door

An Industrial acoustic door is a solid and heavily framed door to reduce noise. It includes seals around its edges and has insulated construction to solve problems of noise transfer, loss, interference or pollution.
Industrial production area or facilities where heavy machinery, tooling or motorized activity are usually have industrial acoustical doors throughout the location to keep hazardous noise out of the areas. Take manufacturing plant as an example, acoustic doors are used to block the industrial noise and establish privacy and protection for managers who are required to monitor productivity on the main floor.

Industrial Acoustic Doors Applications
C-Mac engineered steel doors, bi-parting/sliding doors are used in the following situations:
Machine rooms
Plant and equipment facilities
Control rooms
Personnel access doors
Manufacturing buildings
Industrial Acoustic Doors Considerations
Viewing windows in door need to comply with door sound rating
How are the doors acoustically sound sealed – rubber seal
Type of locks and handles required for security
Why Use C-Mac Acoustic Doors?
High Quality
ISO 9001:2015 Quality Certified Company
Manufactured in steel, stainless steel, aluminium and timber
Meet Australian Standards - Performance is guaranteed
Products last for decades - Feedback from customers
Short Lead Times
Customisable and Flexible
Special made industrial acoustic doors to suit specific requirements
Able to add lock hardware such as panic bars, handles, locks, peep-holes etc.
Colour of the acoustic door is optional and painted in-house.
Also a wide range of acoustic enclosures, acoustic louvres and attenuators are available when it comes to acoustic projects.
Click here for Acoustic Products Case Study
Click here for "Plant & Equipment Finance"
Call our experienced noise control engineers on 02 9631 6000 or