Sound Attenuators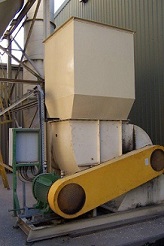 Acoustic Attenuator controls noise generated by air or gas flows while providing sufficient airflow for the applications. The main reason to use acoustic attenuators for noise control in an industrial environment is that excessive industrial noise will cause damage to staff's hearing and may lead to hearing loss.

C-Mac Industrial Acoustic Exhaust Sound Attenuators are purpose built sound attenuators with removable and re-packable internals.
Industrial Light Weight Splitters are manufactured to the high level of noise reduction that allow adequate passage of air for internal applications and external applications.
Exhaust Sound Attenuators - Rectangular Silencer or Circular silencer
Sound Attenuators are basically duct type silencers and are normally rectangular or circular.
Commonly circular silencers are either
1 x diameter in length
2 x diameter in length and could require a centre pod. The 2 x length version provides better acoustic performance.
Special extra long silencers are designed for specific circumstances.
Rectangular silencers have different splitter configurations varying in thickness.
Open areas are generally calculated between 25 – 50%. Smaller the open area the better the sound proofing
Depending on air speed acoustic filling may require special retention methods so it doesn't deteriorate and depart on air discharge.
Acoustic Silencers & Attenuators Applications:
Industrial centrifugal and axial fans
Plant room ventilation (air inlet and outlets)
Dust extraction systems (dust control equipment)
Air compressors
Exhaust plenum chambers
Air conditioning installations (plant rooms)
Cooling towers (silencers)
Positive displacement blowers
Diesel engines driven generators and other machinery
Frequently used in conjunction with Acoustic Enclosures
Silencers for exhaust fans (Motor cooling fans)
Power generation equipment
Outdoor air ventilation systems
Refrigeration plant
Fans (Rectangular and Circular) and blower inlets and outlets
Gas Turbines
Compressors
Roots Blowers
Steam and Gases
Reactive Silencers
Air relief silencers
Vent and Blow down silencers for air
We HELP to select the right silencers for your application
Why Use C-Mac Acoustic Silencers & Sound Attenuators?
High Quality
Manufacturer leader in Noise Control Engineering for over 40 years in Sydney Australia
Satisfactory results and guaranteed performance
ISO 9001:2015 certified with high quality ensured
Industrial quality providing long life and low maintenance
Short Lead Times
Support from in-house Sheetmetal Fabrication and Engineering staff with over 50 years of experience.
Support from experienced in-house design engineers with manufacturing experience.
Quality customer service through prompt response and delivery
Customisable and Flexible
Various models available to satisfy differing noise, airflow and space requirements.
Circular or rectangular attenuators depending on pipe work.
Elbow or bent attenuators
Cross-talk attenuators for privacey of conversations
Custom flanges made to suit application
Different colour and finishes available
Manufactured from galvabond, stainless steel and aluminium to suit applicable environment
Click here for Acoustic Products Case Study
Click here for "Plant & Equipment Finance"
Contact our
experienced acoustic engineers
on 02 9631 6000 or