Acoustic Louvres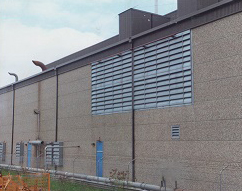 Acoustic louvre is usually used in industrial facilities and equipment such as air conditioning systems, cooling towers and refrigeration units in the Australian manufacture sector.
What is a Acoustic Louvre?
When a machine moves large volumes of air in or out of a building or large plant room it creates a noise and the available space is normally restricted, acoustic louvres are the ideal solution. An acoustic louvre assists with both ventilation and noise control.

An acoustic louvre can be an unobtrusive weatherproof barrier. It can also become a part of the architectural feature of a building. Acoustic louvers can not only reduce noise pollution, but also maintain the airflow in or out of the building.
In other words, industrial acoustic louvres are manufactured to provide adequate ventilation through fresh air intakes while reducing noise emanating from the industrial facilities.
C-Mac Acoustic Louvres
C-Mac Industrial Acoustic Louvres are specially designed to control noise to an area with minimum restriction to airflow. Our acoustic louvres make the ventilation process more efficient and help create a safe and friendly work environment for workers.
They have very low-pressure drop characteristics and the design is energy-saving and aerodynamic. Overall, the robust all-metal construction gives our acoustic louvres a long life expectancy.

Widely used to maximum possible air flow when performing noise control, our acoustic louvres can also be used as Louvre screens, freestanding barriers and enclosures.
Acoustic Louvres Applications
1. Acoustic enclosures are manufactured using louvers e.g:


Air conditioning intakes
Generators & power generation equipment
2. Plant room(s) / workshop / factory louvres - Most air conditioning rooms need air ventilation and require special acoustic louvers fitted. Louvers are static and come in two types


Singular - 300mm depth or wall thickness
Doubles with herringbone design - 600mm depth or wall thickness
3. Cooling tower inlet attenuators and (mechanical equipment) screens
4. Outdoor air ventilation systems
5. Refrigeration plants


Features of C-Mac's Acoustic Louvre
Acoustic Fill
Inert, vermin-proof, weather-rated and non-combustible acoustic fill available
In the acoustic louvre panels, special acoustic fiberglass filling is used as the sound isolation agent
Splitter blade
The shape and the angle of the blades positioning are considered while designing acoustic louvres.
Splitter blade design is for maximum noise reduction with minimum pressure drop.
The louvre blades are provided with an infill of acoustic fibreglass covered with galvanised mild steel perforated sheet.
Louvre blade orientation blocks horizontal line of sight, enhancing both aesthetics and acoustic performance.
Serve as weather barriers
The special design of the acoustic louvre stops rain from entering.
Optional Feature
Bird guard are fitted as standard on rear of louvre, to avoid bird capturing in the air passages.
Why Use C-Mac Acoustic Louvres?
High Quality
Specially designed our acoustic louvres blades provide the lowest possible pressure drop in airflow.
Over 40 years of experience in Noise Control Engineering
Satisfactory results with guaranteed performance
ISO 9001:2015 Quality certified company
Short Lead Times
Customisable and Flexible
Mainly made from galvanised mild steel sheeting and fitted while special materials such as stainless steel and aluminium could be supplied on request.
Various models/standard designs available to satisfy differing noise, airflow and space requirements.
Modular sizes can be designed to enable assembly of rectilinear louvre walls of almost any size.
Great Support
We supply necessary supporting steelwork and offer a full installation service.
Pre-order design service – we can design special acoustic louvres to suit your machinery and offer on site measurement and fitting to solve your industrial noise problems.
Manufactured in strict accordance with the best practices and industry standards, using the most advanced and efficient sound-proofing materials and technologies.
C-Mac acoustic louvers have various shapes and sizes available, different types of finishes offered, additional weather barrier functionality, durable construction and high performance in noise control.

With the high performance and turnkey capabilities, C-Mac acoustic louvers are favoured by engineers, architects, contractors, and building designers as the product dramatically reduces noise for building intake/exhaust openings and mechanical services plants with minimum restriction to airflow.
Click here for Acoustic Products Case Study

Click here for "Plant & Equipment Finance"
Contact C-Mac for more information regarding application, specification or installation of acoustic louvres on 02 9631 6000 OR