Industrial Acoustic Silencers/Attenuators
Acoustic silencer plays an important role in noise control and reduces the level of unwanted noise in Industrial Environments. Silencers contribute to good Work Health and Safety (WH&S) environments by reducing noise dramatically in the workplace. Staff are well protected by quality acoustic silencers.
C-Mac Acoustic Silencers are manufactured to resolve many in-plant noise problems. They provide quality sound engineering solutions for numerous applications in the industrial and commercial sectors.
Acoustic Silencers/Attenuators Applications: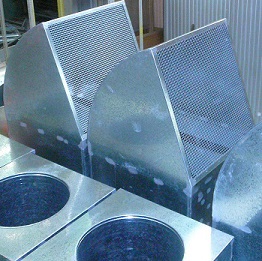 Our industrial silencers are a heavy duty range of silencers that can be used with the following equipment:
Vent Silencers
Suction Silencers
Discharge Silencers
Gas Turbine Exhaust Silencers
Exhaust Stack With Silencers
Steam Vent Silencers for a wide range of pressure and temperature conditions.
Start-up Vent Silencers
Steam Turbine Exhaust Vent Silencers
Process Gas Vent Silencers
Natural Gas Vent Silencers
Compressor Suction Silencers
Compressor Discharge Silencers
Blower Silencers
Online Pressure Silencers
Reactive Silencers
Twin Lobe Blower Silencers
Motor Silencers
Separator Silencers
Air Filter Silencers
DG Exhaust Silencers
Hydraulic System Silencers
We HELP you select the right silencer for your application.

C-Mac's Acoustic Silencers Examples:
1. Circular silencer with mesh air intake for boiler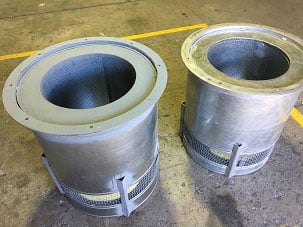 2. Stainless steel circular silencers with rectangular transition for air conditioning units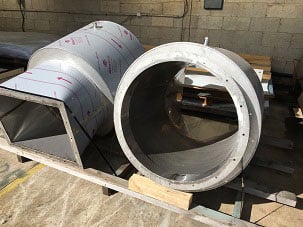 3. Below is another purpose designed application by C-Mac's for an acoustic silencer. Barangaroo Development - Silencer on top of ventilation stack. Several large acoustic enclosures also supplied.

The acoustic silencer is on top of the chimney in the centre of the photo - the vertical large grey pipe, enclosures are out of sight.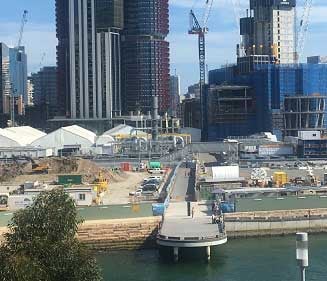 Click here for other Acoustic Products Case Studies
Why Use C-Mac Acoustic Silencers?
High Quality
Manufactured in steel, stainless steel and aluminium
Over 40 years of experience in acoustical engineering
Guaranteed performance and satisfactory results
ISO 9001:2015 Quality certified company
Provide optimum performance, long service life and low maintenance. Exceptional performance in adverse working conditions
Short Lead Times
Sheetmetal Fabrication and Engineering support with over 50 years experience
In-house design utilising 3D CAD software and engineers with extensive manufacturing experience
Looking after our customers by providing quick response and delivery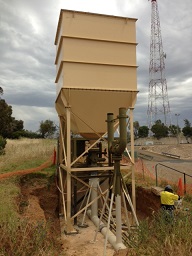 Customisable and Flexible
Special made acoustic silencers to suit customer specific requirements
Quality specified materials are used to withstand different pressure and temperature conditions
A wide range of access doors, acoustic enclosures, acoustic louvres and silencers are available when it comes to noise control projects.
Call our experienced noise control engineers on 02 9631 6000 or