CNC Precision Component/Part Repair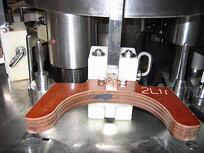 CNC Component Repair is one of C-Macs' Maintenance Services. Your unserviceable components can be returned to C-Mac for repair and/or overhauled in our repair workshops. C-Mac uses well established and proven work procedures to ensure a proper working component suitable for reuse is supplied.
High technology repair processes:
Hard Chroming, Metal Spraying
Specialised Welding - internal and external
Wire cutting for hardened materials
Why Choose C-Mac for CNC Component Repair
Short Lead time in Reconditioning

With 50 + Years of expertise in maintenance repair knowledge, usage experience and latest OEM component technology, C-Mac can repair and refurbish most unserviceable or worn-out components in a guaranteed removal & installation time, resulting in optimal uptime.

Quality in workmanship

As a quality assured company in Sydney, the highly skilled maintenance engineers and the advanced CNC equipment make sure that our job quality is commendable.

Excellent in Customer Service

No up-front investment in expensive components required if the old components can be repaired! C-Mac always puts our customers first and strives to provide customers with repaired components as good or better than the original resulting in the optimal component operational life.

If you have any component repair issues then contact us on 02 9631 6000 to make an enquiry OR
Experienced and skilled Maintenance Engineers provide FREE Consultancy, FREE Quote and FREE onsite inspection if need.