CNC Machining Capabilities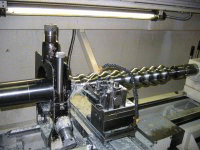 Although C.N.C. machines dominate the factory, there is also a full range of machineries considered essential to a general engineering shop. Secondary processes include radial arm drilling, milling, turning, slotting, hobbing, band sawing, cylindrical grinding, keyway cutting and various other cutting equipment.
Machining Equipment
CNC Vertical Machining Centres: Travel X = 1050mm, Y = 560mm, Z = 500mm
CNC Turning Lathes: Up to 600mm dia. x 3100mm between centres, 100mm dia. spindle bore
Vertical bandsaw: 780mm throat x 480 mm thickness
Automatic Saw: 250mm capacity
Radial Arm drilling: 55mm dia. capacity x 1.5metres
Hydraulic Press: 55 tonne x 600mm stroke
Universal & turret mills, centre lathes, tool & cutter grinders, drill presses, tap removal, and other allied pieces of equipment.
Access to wire cutting, Laser cutting, 5 axis 3D machining, heat treatment, plating etc
Extensive range of measuring equipment and gauges.
Materials In Use
Incolloys, plastics, stainless steel, copper, brass and bronze, alloy steels, aluminium, castings and forgings. Plastics, felt and synthetic materials including polyurethane and rubber. (Range of steel stock)
Products We Made in-house
Shafts, transmission drives, turned components, bearings, jigs and many other special purpose machinery components.(see Photo Gallery)
Facilities
3.2 tonne overhead crane with wall to wall coverage
Large yard area for storage
Reserved customer parking.