Following a trade mission trip to Italy hosted by the Italian Chamber of Commerce & Industry last October 2015, C-Mac Industries general manager, Robert McMaster is now pleased to announce a commercial partnership Australia wide with Da Ros who manufacture nursery horticultural automation equipment.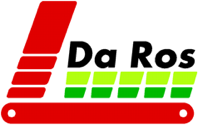 Automation generally in the horticultural industry is lagging the rest of the world but now with Da Ros's extensive range of automated machinery which has been proven over the last 40 years worldwide along with C-Mac's existing range of standard and specialised horticultural products, there are exciting options available to anyone wanting to become more automated and efficient.
C-Mac's extensive manufacturing facility in western Sydney and experience in the horticultural industry for over 45 years as well, enables a high level of support and technical expertise.
C-Mac has access to a production nursery nearby with a full range of Da Ros equipment for interested purchasers to view and see automation in action.
Type of equipment now available and listed on C-Mac's website:
Destackers
Labeling Machineries
Soil Supply Equipment & Machines
Tray Fillers
Seeding Machines
Transplanters
Potting Machineries
Transport Conveyors
Tray Washer
Watering Booms
Trimming Machines
Da Ros also provides bespokedesign products that cover most of their customers' needs.
Click here to see Da Ros'Agency Appointment
For further details contact Steve Grlyak, C-Mac Industries (Aust) Ph: 9631 6000
Regards,
Robert McMaster
General Manager
C-Mac Industries ( Aust ) Pty Ltd
72 Mandoon Road
Girraween NSW 2145
Phone: +61 02 9631 6000
Mob: 0408 209 356
Fax: +61 02 9896 1806
Email: robmcm[at]cmac.com.au
"Innovative Metal Solutions"

Horticultural Automation
25 years proven track record
Quality Italian made with Australian local support
Automating the Australian horticulture industry