Metal Cutting Sydney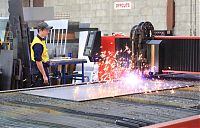 C-Mac Sheet Metal Fabrication is Sydney based and has on site a computerised plasma and profile cutting service enabling a vast array of shapes and sizes to be cut from plate or sheet metal.
Sheet metal cutting is a metalworking process that uses various machines or hand tools to create shapes and holes in a metal sheet or plate to create a metal profile.
With a wide range of cutting equipment readily available on site, it makes cutting a wide range of steel and metal for customers a easy to achieve process.
C-Mac can provide Quality Sheet Metal Cutting Services which include Manual Plasma Cutting, High Definition (HD) CNC Plasma Cutting, Oxy Cutting, Saw Cutting, Profile cutting, Bandsawing, Guillotining services and Cropping from merchant bar (flats, rounds, squares, etc), RHS and SHS to pipe, angle, plate & sheet and structural beams and builders' steel (See Photo Gallery)
Profile Cutting
Profile cutting is a process that is used to cut steel and other metals using either a hand held plasma or oxy/acetylene torch or CNC controlled equivalents.
Saw Cutting
A tool or piece of equipment used for cutting, typically a thin blade of metal with a series of sharp teeth. e.g. recipricating saw, band saw, hole saw or hacksaw.
Cropping
Using a blade it is forced (using hydraulics) through the steel sheering off a section. Idealy used for cutting angle and flat bar without creating heat or sparkes.
Guillotining
Guillotining is the process of taking a sheet of steel and cutting it into a smaller custom sized blank to any required dimension.
Oxy Cutting
In Oxy Cutting, a torch is used to heat metal to its melting point temperature. A stream of oxygen is then trained on the metal, burning it into a metal oxide that flows out of the kerf area as slag. Nick named a "Gas Axe".
Manual Plasma Cutting
Plasma cutting (plasma arc cutting) is a melting process in which a jet of ionised gas at temperatures above 20,000°C is used to melt and expel molten material from the cut. It is the human hand that guides a manual plasma cutting torch that is responsible for the roughness sometimes seen in plasma cut pieces. Guides and templates can be used to minimise this roughness.
High Definition (HD) CNC Plasma Cutting
High Definition CNC plasma cutting systems use computers on machines to create the shapes to be cut and control the cutting machine movement and gases. The resulting shapes are smoother and more complex and accurate than would be possible with a hand plasma torch, and can include intricate curves, inside cuts, and sharp corners.
HD CNC plasma cutting also provides near laser quality cutting at a fraction of the time and effort usually required by traditional oxy cutting. It is designed for high speed, accuracy and large capacity cutting of material.
Sheetmetal Metal Cutting Capabilities
| | | |
| --- | --- | --- |
| Machine | Material Thickness | Size |
| CNC High Definition Plasma Cutter | up to 25mm | 2.5m x 6 metres |
| Hand Plasma Cutting | up to 25mm | |
| Oxy Cutting | up to 50mm | |
| Saw Cutting | up to 250mm dia. | 450mm width |
| Band saw cutting | up to 200mm | |
| Guilotining | up to 6mm | 3 metres |
| Cropping | 10mm | |



Why Choose C-Mac for Sheet Metal Cutting?
Specialise in short lead times
Quality in workmanship
Excellence in customer service - supplying what the customer asks for.
Versatility in services and products
See advantages in detail
If you have any Sheet Metal Cutting issues,
or call us on (02) 9631 6000.
Our Dedicated Metal Experts are ready to provide you with FREE consultant services on the phone and onsite if need.
Other Metal Cutting Services