---
Sheet Metal Profile Cutting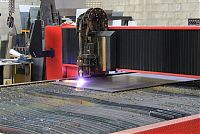 Plasma profile cutting is a process that is used to cut steel and other metals using a plasma torch.
In this process, an inert gas (compressed air) is blown at high speed out of a nozzle. At the same time an electrical arc is formed through that gas from the nozzle to the surface being cut, turning some of the gas to plasma.
The plasma is sufficiently hot to melt the metal being cut and moves sufficiently fast to blow molten metal away from the cut.
Plasma cut VS Oxyfuel cut?
The advantage of plasma cutting over the oxyfuel cutting is that oxyfuel cuts by burning, or oxidising and it is limited to steel and other ferous metals that support the oxidising process.
Metals like stainless steel and aluminium form an oxide that prevents further oxidation and thus make oxyfuel cutting imposible. Plasma cutting, however, does not rely on oxidation to work, and thus it can cut aluminum, stainless steel and any other conductive material.
Plasma Profile Cutting Service provided by C-Mac
CNC HD Plasma Profile Cutting Sydney
C-Mac Industries High Definition (HD) plasma profile cutting is a computer numerical controlled (CNC) process, the torch head being entirely controlled by computer thus generating a clean sharp cut, approaching laser quality.
Plasma Cutting Material
Aluminum
Stainless Steel
Galvanize Sheet
Mild Steel
Zinc sheet
Any other conductive material
Examples of Plasma Cut Profiles: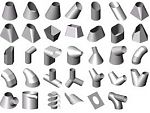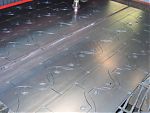 C-Mac's Plasma Profile Cutting – Capabilities
Ability to plasma engrave:
Flanges plasma cut and holes spot drilled:

ID and OD of flanges machined if required
Face of flanges can be also machined with a gramophone finish to a maximum flange OD of 900mm diameter.

Provides plasma cutting services optional:

Using the customer material - Supplied DXF files, drawings, samples or sketches. OR
C-Mac's material

Approaching laser quality finish in conductive material (Steel, Aluminium, Stainless steel and any other).
Minimum material waste - software used for programming the plasma profiling machine is configured to optimise the layout of the parts
Sheetmetal and Engineering workshop standby - Holes in angle steel, RHS and flat bar up to 6 metre long can be spot drilled for positioning, then drilled and taped as required on our machines.
Large steel plates can be profile out (6m x 2.5m with a thickness up to 20mm)
Plasma Profile Cutting Product Example
Sheetmetal Stencils or Templates
Asphalt, pavement or floor stencils will keep parking areas, roads, playgrounds, schools, sports fields, warehouses and other facilities clearly and attractively marked
Sheetmetal is flexible and conforms to most surfaces
Sharp, accurate marking
Made to Australian Standard
Designed to suit customers requirements
SPECIFICATIONS
Drawn and cut to customer's designs or Australian Standards.
Special Designs with any Font or style made to order.
0.75 mm zinc anneal Sheetmetal templates
Reusable
Customisable
Why Choose C-Mac for your Plasma Profile Cutting Service?
Specialise in short lead times
Excellence in customer service
Quality in workmanship
Versatility in services and products
See advantages in detail
If you have any metal fabrication issues then call us on (02) 9631 6000 Or
Our metal specialists are ready to provide you with FREE consultant services on the phone and onsite if need.