Hook-lift Mobile Workshop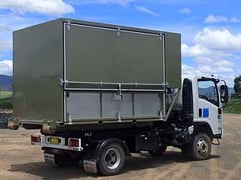 Do you currently have hook-lift trucks in your fleet? Have you explored all the possibilities to utilise this great system to its full potential?
C-Mac's hook-lift workshop was developed by C-Mac to be a framework for easy deployment and re-configuration. It can be furnished for all kind of purposes. Power generator, table and other tools can all be built into the hook-lift mobile workshop.
It is a great solution for working on job sites in industries that demand mobility and security.
The mobile workshop can be deployed by hook lift trucks with no need for forklift or crane. This easy and rapid deployment gives the hook lift mobile workshop its advantages. See below for the video demonstration.
Benefit
Fully customizable - Cater for any of your special requirement
Especially designed - It fits within the parameters of the hook lift skid design
Easy for Transportation / Storage
Well proven - High quality solutions (100% Australian Made)
Multipurpose use - Workshop/Toolbox/Workshop Containers…….
Specification
Size

: 2.4m high, 3.7m long, 2.2m wide

Weight

: 1000 kg

Door Opening

: 2.1m high, 3.05m wide

Material

: Mild Steel Frame, Zincanneal Skin

Paint

: Any colour
Speak to a C-Mac technical officer to discuss possible arrangements to suit your needs. Call us on (02) 9631 6000 or