Mobile Sports Dugouts & Team Shelters

Sports players team shelters (sports dugouts) and bench seating solution for all sporting codes from athletics, hockey, rugby, baseball and soccer/football. Keeps coaches and players on the interchange bench dry, warm and ready to play.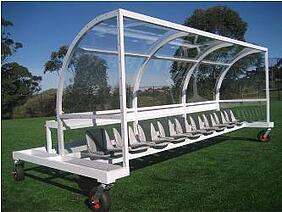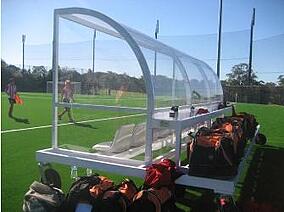 Good reasons to have these Sports Dugouts on your field:
Dugout/Shelter seating doesn't hinder spectator view.
Portable dugouts can be easily pushed into position to suit game requirements.
Fan protection for players.
Wind & rain protection for players.
Minimal markings to artificial and natural turf fields, grounds and pitches due to wide turf tyres.
Off ground storage of players bags on rear of dugout.
Sandbag rack – to weigh down mobile dugout structure for stability in windy conditions.
Accommodates 6-9 persons on comfortable cushioned seats, forward mounted to prevent head impact on the clear roof covering.
Quality Australian Made
Mobile Dugout Specifications:
Painted white enamel (colour optional).
Light weight robust aluminum welded construction.
Extremely strong 3mm shatter resistant clear Polycarbonate protective covering.
Four pneumatic swivel castors:
(1) Turf tyres 100mm wide x 350mm diameter
(2) Deep wheel spacing to minimize tip over
Vinyl covered and cushioned marine quality seats.
Dugout Size:
(1) Overall Length 5.7m
(2) Width 2.5m
(3) Height 2.4m
Optional
1. Dugout Protective Cover:
Lightweight Vinyl Fabric - 550 gram/m2
Ultra Violet and Fire Retardant treated vinyl fabric.
Velcro tyres.
2. Anchor points for pegging to ground.



Mobile Dugouts "Size & Price List":
All the Sports Dugouts (Team Shelters) can be special made to suit all budgets for professional to local league sports clubs. An excellent addition to give your team the winning edge!
Contact us on 02 9631 6000 to make an enquiry OR