Sport Equipment Box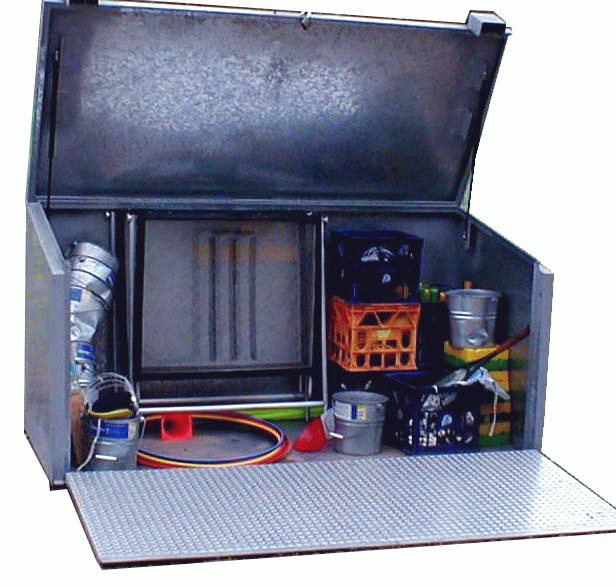 The Sport Equipment Box is designed to store a large variety of sports equipment and accessories for either outdoor or indoor areas.
Provides protection against falling leaves, rain, sleet, snow, windblown dust and dirt. Will also be undamaged by the external formation of ice. Provides storage for your expensive or important sport equipment in a secure and weatherproof manner right where you play your sport.
Why use C-Mac's Sport Equipment Box?
Saves time and effort
Store the equipment safely on location and always have it readily available - No need to transport sports equipment to and from sporting ovals.
Secure and Worry Free
The boxes are fitted with strong padlock protection covers making it very difficult for vandals to access the padlocks.
Quality and Long lasting
The "Sport Equipment Boxes" are made from strong weatherproof galvanised steel ( 3mm thick, heavy gauge steel plate for maximum strength) – Durable, long lasting and requiring little maintenance.
Dry In any Condition
The unique weatherproof construction is able to withstand harsh conditions, in unpredictable weather conditions - The innovative stay-dry design keeps rain out and keeps sports equipment dry, clean and ready for use when needed.
Specific Features
Vandal proof covers over padlocks
Galvanised anti slip fold down ramp for easy access.
Pneumatic struts to support lid
Made from heavy duty 3mm galvanized steel plate
Feet and pads (6) support the sports box clear of the ground, so base doesn't rust.
Applications:
Schools
Park Districts
Baseball fields
Youth Programs
Holiday Resorts
Campsites
Holiday Retreats
Many More
With its tough weatherproof coating and versatile storage feature, the sporting equipment boxes provide a quality and secure storage solution, allowing you to organise your outdoor sports activities in a efficient manner.
All the boxes are manufactured in Western Sydney Australia to the highest quality standards (Officially accredited to Quality System AS/ISO 9001) and can be customised to suit your requirement.