Walkovers/Platforms/Walkways/Access Stairs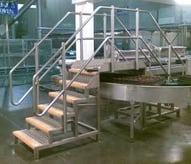 C-Mac's walkovers, access stairs, fixed platforms, walk ways and stairways provide safe access to places used by operating, inspection, maintenance and servicing personnel.
Conveyor walkovers:
No more time wasted due to a conveyor blocking the way
Easy access to the other side of the conveyor
Increase safety for staff
Platforms: A designated surface to support working staff, equipment and materials or for a safe resting area when climbing steps.
Access Stairs/Walkways: Make your internal access and external access easy and simple




Stainless Steel Handrails: Used for Walkovers/Platforms/Walkways/Access Stairs/Architectual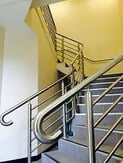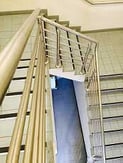 Specification:
Size: Custom made according to customers' specific requirements
Material:
Stainless Steel - Complies with Australian Standard specifications
Galvanised Steel - Complies with Australian Standard specifications
Galvanized steel pipe - Used for corrosion resistance, hot-dip galvanized internally and externally in accordance with the requirements of AS/NZS 4680 for hollow sections
*NOTE: Corrosion may occur when dissimilar metals are brought into contact with one another. Under certain conditions this should be considered.
Call our sheetmetal fabrication estimators on (02) 9631 6000 to disucss your requirement or