Water Ski Rack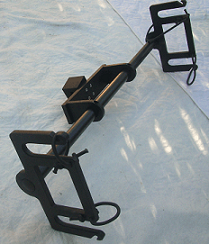 For water ski enthusiasts or the water sports family that have water skis lying on the floor or packed away in storage lockers that are too difficult to get out. These Water Ski Racks will solve your skis storage problems. C-Mac's Water Ski Rack will prevent you from tripping over the water skis in your boat.
Why Choose Water Ski Racks?

Safe and Efficient
For water sports lovers especially those with a family, C-Mac's Water ski racks will improve your water skiing experience with you and your family. Your boat will be uncluttered and trip free by storing your water skis up out of the way on C-Mac's water ski racks.

Stay Away from Clutter

It is always good to have a tidy boat while enjoying time out on the water.

Protect Water Skis and your boat
Providing a designated spot for your water skis will prevent them from getting scratched, broken or lost. Don't have your skis cutting upholstery or scratching your fibreglass.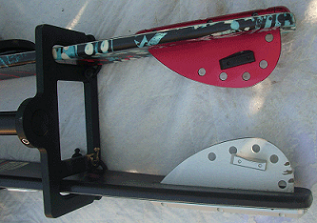 Why Choose C-Mac Water Ski Racks?
The unique clamp design securely attaches the rack – providing a strong non slipping connection to your tower and won't rotate.
The UV resistant heavy duty shock cord holds your water skis in place
Quality long lasting product – manufacturing processes accredited to Quality System AS/ISO 9001
Specific Features:
Holds two (2) skis - Water ski rack suits skis only

not

suitable for wake boards
Suits towers and any pipe work 38mm to 56mm diameter - Rigid with no rattles
Water Ski Rack has been made to be adjustable to align skis to position required - e.g. horizontal to boat, as most tower pipe work is at various angles.
Different to overseas imports:

Adjustable to enable large ski bindings to fit between rack supports
Larger distance between skis so ski fins don't interfere

Australian Made from marine grade aluminum – black anodized and supplied with stainless steel fasteners
Rubber inserts in ski rack – skis don't get damaged and skis secured with bungee cord straps
Sold in batches of 5 units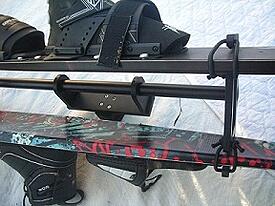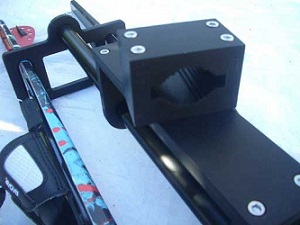 Water ski racks from C-Mac can be customised to suit your requirement. Give your boat the opportunity to look well organised again - protect your skis. Stay safe with a tidy boat!