Steel Fabrication Services Sydney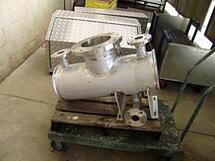 Steel fabrication is any process which involves the transformation of raw material such as steel into a new item or product. This new item can be used in applications which include construction and assembly.
In steel fabrication, raw materials undergo various fabricating methods such as cutting, forming, burning, machining and welding. The steel fabrication process requires a skilled and experienced technician or machinist to take raw components and transform them into marketable items.
With our advanced equipment and skillful staff, C-Mac is known to be a market leader of Steel Fabrication in manufacturing industry. With over 50 years of experience in Steel Sheet Fabrication and CNC Precision Machining, we have been recommended by many clients as we cater to different steel fabrication jobs from small to large.
The basic processes of our steel fabrication
In this process, steel is blasted to prepare it for fabrication. This aims to provide a clean finish so that the steel is easier to weld. Apart from that, with shot blasting, steel with rough surface can be painted easily.
It will be easier to work with steel if they are cut accordingly before fabrication. There are a few ways to cut steel. This includes circular saws, flame cutting or plasma cutting techniques.
Some structures may require various rolling and bending techniques. This is true in most modern structures. Steel must go through various set of bending rolls until a certain level of curve has been completed.
When it comes to steel fabrication, welding is vital. This process is used to attach fixtures and fittings. Apart from that, welding is also used to prepare steel connections for installation.
Coating is usually applied towards the end of the fabrication process. It is used for both functional and aesthetic purposes. Nowadays, high-tech coatings are common among fabricators because it can protect the steel against corrosion and fire. Moreover, it creates a custom look when architects or clients ask for it.
How steel fabrication works
Before anything else, a blueprint should be created to guide both the fabricator and the client to the rest of the process. From there, the blueprint will be moved into a digitally-controlled screen using a CAD program. Using CAD software is an efficient way to create three-dimensional blueprints.
After the planning stage, fabricators have to gauge the original shape of the raw material which are available in various forms. These could be in flat plate, pipes, reshaped channels or other forms. In a fabrication shop, there are a variety of tools/machines and techniques that can be used. These equipment utilise heat, pressure and force at certain levels to fabricate the steel.
Once the raw material has been processed, the next step is for the machinist to form the material into the desired shape. CAD calibrations are combined with CNC equipment to get precise cuts and bends of the material. Cutting-edge technology is usually used to track process and maintain proficiency.
For the final touches, the item will be blasted, sanded or painted to improve its mechanical properties. Others also do this for the sake of aesthetic appeal.