Sheet Metal and Fabrication Sydney Metro Area
C-Mac Metal Fabrication Capabilities
Metal Products
Metal Projects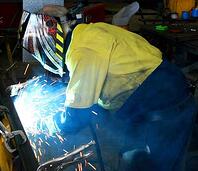 When it comes to metal work projects, C-Mac has numerous staff, with many years of experience in sheet metal and metal fabrication, and constantly in contact with a wide range of metal specialist companies that can be called upon. We provide innovative sheet metal solutions & custom metal solutions for all your projects in metal, such as:
Metal prototyping (before going to full production);
Restoring damaged parts (including

imported parts replacement

utilising reverse engineering capabilities);
One off jobs (no job is too small or too big);
Purpose built products; (see examples in our Fabrication Gallery)

Emergency break down services

(our metal fabrication specialists quickly respond to your phone call and go out to help you identify and fix the problem in a short lead time)
Onsite work: Fabrication, Mechanical, Machining and Installation.
Metal Forming Services (Sheet and Plate)
Cutting, bending, rolling, drilling, punching, notching, lock seaming, welding, sheet forming, plating, galvanising, powder coating, painting and more.
See our metal processing services in detail.
One Stop Custom Metal Fabrication
• Saves your time and reduces your cost
• 3D CAD drawings allow you to see the finished product before manufacture
• Multiple metal manufacturing needs met in one location
C-Mac can not only meet all your custom fabrication demands in sheet metal fabrication and plate fabrication. (also known in the industry as light and heavy fabrication), but also your ENGINEERING NEEDS because not many sheet metal fabrication workshops like C-Mac have access to a fully equipped and highly qualified engineering & gear cutting and gear grinding facility.
A 3D CAD Design Engineer, Electronics Engineer, Electrician and a Project Engineer specialising in materials handling are all available and on call and can go "on-site" to provide solutions and to measure and quote.
Also, C-Mac offers mechanical design & drafting services using in-house CAD drawing and modelling software so you can see the finished product before manufacture is commenced.
Design Service is offered and supported by many years of manufacturing experience along with a Project Engineer and specialists in Precision Machining & Gearcutting in-house.
We strive to make sure that our customers receive value for money and to know that their work is in safe hands.
Contact our metal specialists for FREE Consultative Services - phone : email : onsite
Why choose C-Mac as your metal fabricator?
Specialise in short lead times
Our qualified, skilled and experienced sheet metal workers, fitter welders and boilermaker tradesmen are on call to do difficult and special jobs in-house or on-site with fast turn-around times.
Modern equipment, including both conventional and computer controlled machinery, is operated by our valuable manpower and a wide range of knowledgeable staff.


Excellence in customer service
We provide what you ask for: the right type of job and when you want it.
With our diversity of staff and equipment, we get the right people on the job.
We do our job quickly and guarantee that your work is in safe hands.
Quality Assurance Certification AS/NZS ISO 9001:2015
Versatility in services and products
(See above for details)
What Our Clients Say About Us?
"I went to the Observatory on the weekend and found that the exhibition and especially the furniture still look stunning! You have done such a great job! and without your expertise and realisation of my vision this wouldn't be standing there"
- - - Claudia Brueheim, Cloudhouse Founder & Exhibition Designer

If you have any metal fabrication issues then email or make a phone call
Our metal specialists are ready to provide you with FREE consultant services on the phone and onsite if need.
At C-Mac, we strive to provide "Innovative Metal Solutions".