Sydney Local Engineering Support.
Are you from interstate or overseas looking for

fabrication and engineering support around the Sydney Region, New South Wales, Australia?
Acquiring immediate local knowledge, experience and resources can be challenging when you have projects to complete in a state or country where you have no local presence. Especially as comprehensive manufacturing facilities in the Sydney area are becoming scarce, and sourcing products and materials is getting difficult due to the reduction of many manufacturing businesses over the last decade.
C-Mac, your local Manufacturing, Installation, and Service representative in Sydney Australia.
Machines need to be designed, manufactured and fitted properly, while installations often need extra supporting infrastructure. Having the local knowledge to be compliant with "Australian Standard"s and in house labour resource compliant with "Fairwork Australia". we are in an ideal position to support you.
For over 50 years, C-Mac has been the local manufacturer of high quality engineering products in Western Sydney. With our capability and exceptional workmanship, your engineering and fabrication projects can be completed locally in short lead times.
What are the benefits of partnering up with C-Mac Industries?
Partnering up with C-Mac, provides you with comprehensive manufacturing facilities and expertise to support the installation of equipment under your supervision and instruction.
C-Mac manufactures a wide range of equipment in-house to cover all your engineering and fabrication needs.
Spare parts support and maintenance for your machines can also be provided.
Examples and testimonials of the types of work that we do as agents for:
Dupont (USA) – Professional engineering design labour provided over a 3-month period. New plant (second hand) from the USA installed over a 6-month project along with supply of connecting auxillary equipment and repairs of damaged parts.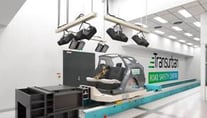 Escribano (Italy) – Installing crash test unit for Neuroscience Research Australia (Randwick NSW). C-Mac to Install & Commission. Instigate ongoing maintenance support program into the future and provide spare parts as needed.
RM Srl Unipersonale – Seven seas Navigator, an Italian cruise liner required parts when docked in Sydney – C-Mac Industries was contracted to supply material with test certification in a very short lead time.
European Meat Processing Company installed their equipment into a local processing plant. C-Mac supplied a full-time sheet metal worker for 3 months on the site to measure up, return to the factory to fabricate, then installing walkovers, guarding, platforms and fabricated stainless steel items for the meat processing plant while it was being installed. Ongoing supportive engineering and fabrication work in stainless steel is also being provided.

Contact steveg@cmac.com.au or call +61 2 9631 6000 to explore the potential!