Bulk Bag Filler Hopper
Why use a bulk bagging equipment?
Filling bulk bags without a proper purpose built frame is slow, inefficient, labor consuming and and a waste of resources that may lead to accidents.



About 16 years ago, C-Mac started to manufacture "Bulk Bag Filling Hopper" to solve these problems!
Why improvise to fill bulk bags? Do it the easy and safe way.
Reduced risk of injuries to operators
Utilise equipment properly and efficiently
Save labor costs
No power required
Earn more dollars by minimising product spills
Users of Bulk Bag Filling Frames
Landscape & Building Suppliers – Bulk supply of sand products for building sites
Production Nurseries – Bulk supply of potting mix to nurseries
Sand Bagging – Bulk supply for Emergency support for floods and storms
Quarries – bagging of special products
Versatile
Suitable for

a variety of free flowing substances

such as sand, soil, pebbles, stones, gravel, mulches, potting mix and mined minerals.
Pin Locations are variable to suit different style/size of bulk bag loops
Different chute types to suit different sized and shaped bulk bags
Open top bulk bag filling or Spout top bulk bag filling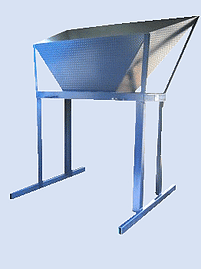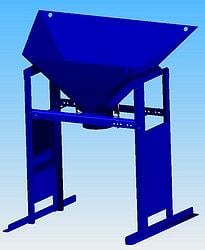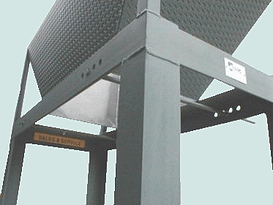 FULLY WELDED or KIT FLAT PACK
Kit Flat Pack reduces transport cost significantly
Kit Flat Pack only has the interchangeable hoppers
Easy to assemble
Both easily filled using a skid steer loader
Bulk Bag Filling Frames can be equipped to fill using conveyors - See Bulk Bag Filling Line as an example.
Labor Saving
High volume: large volume of material bagged instantly
Efficient: up to 10 - 20 bulk bags filled per hour (Pending the location of the material)
Low maintenance: No motors or drive mechanisms (No electrical power required)
Simple to use minimal training required:
Bags can be filled by one person
Bulk bags filled in single tip of the loader bucket
Safe: no moving parts, for fingers to get caught in.
Minimize risk of getting a back strain
Frame easily to moved to different product bunkers saving loader time
Flexible and Convenient
Interchangeable Hoppers to suit your bag style.
Adjustable pin position for different width bags
High Quality
AUSTRALIAN MADE

product in Sydney NSW

Strong

: Made from heavy section BHP steel

Quality certified

company ensuring procedures are maintained and continuously improved.

Many years of experience

manufacturing Bulk bag filling frames and other bagging machines
See video below for C-Mac's bulk bag filling frame (bulk bagger/bulk bag filling hopper) in operation:
Specifications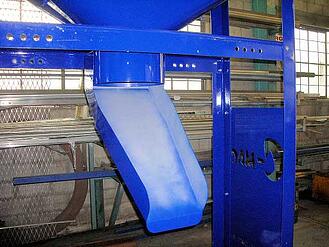 Nominal capacity – Loading for 1 cubic metre bulk bags

Overall dimensions:
Height at front of hopper 2.4 m x 1.8 m wide at front
Height at rear of hopper 2.8 m x 2.4 m wide at rear
Width of hopper: 1.2 m
Floor plate thickness: 3 mm
Hopper bottom opening: 850 × 550 mm
Operation
Put a pallet under hopper with forklift;
Hook loops of bulk bag onto pins;
Dump 1 m3 load of product into hopper;
Lift pallet and filled bulk bag with forklift;
Slide pins back and forth to remove bag loops;
Insert forklift tynes into bulk bag loops;
Transport bag with forklift to storage location or truck for transport
Wash out hopper between products to prevent cross contamination e.g going from white to yellow sand.
Options include:
Loads cells can be fitted for weighing bags.
Weighing system with an accuracy of + or – 2 kg

Dust and waterproof controls
Stainless steel enclosure to protect display

Interchangeable hopper with 400 diameter spout & bag clamps
Pneumatic pin release
Automated bulk bag lift for removal of bags
Detachable bagging chute
Green or Blue enamel paint
Heavy floor plate 5 mm for hopper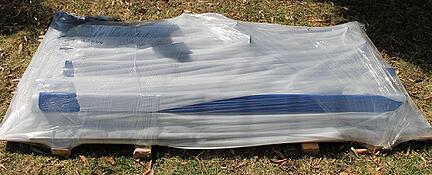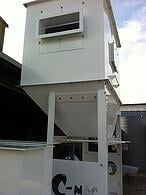 What C-Mac's customer says about our Bulk Bagger/Bulk Bag Filling Hopper
"Our old bagging hopper was a pain and we had been putting up with it long enough, saw C-Macs hopper on the internet which resulted in a visit, it was time to do something so we put it on the back of the truck and brought it back to the yard.
We have tripled our production filling about 20 bulk bags per hour. It's easily moved to different sand bunkers, easy to wash ready for the next product. It's perfect, we have now taken on more orders."
----- Paul, Manager of Nepean Landscapes