Bulk Bag Filling Lines
1 Tonne Bulk Bag Radial Stacker Filling Line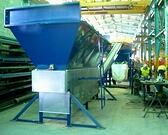 1 tonne Bulk bags are filled alternatively using a radial stacker conveyor fed from a 7m3 storage bin.
PLC controlled
Single operator filling line.
Bulk bag filling operation
Operator places a bag under filling hopper by hooking loops on pins
Places a pallet under bag (for bag removal)
Press start button, storage hopper and conveyor starts filling
While bag is being filled, another bulk bag and pallet placed under second filling hopper
When first bulk bag is filled to specified weight, conveyor stops and indexes across to second filling hopper
Operator presses start button and second bulk bag starts filling
Using a forklift take the weight of a filled bag
Remove bag loops from pins
Remove filled bag
Replace with a new empty bag and pallet.
Press start button
Repeat > Repeat
Fills a 1000kg bulk bag every 1.5 to 2 minutes.
Bulk Bags 1T being filled using Radial Stacker:
415 volt operation
Load cells ensures bags are filled exactly to a predetermined weight.
PLCControl

Settings from 1kg to 2,000kg
Free fall allowance

Emergency stop buttons in handy locations
Extensive safety guarding of moving parts
Guards are perforated to allow for visual inspection of moving parts
Optional extras
Safety fencing
Installation and commissioning
Training for operators
2 Tonne Bulk Bag Filling Line
This particular 2 tonne bulk bag filling line was developed for outdoor use in the tropics, located in the Northern Territory.
Consists of a feeder bin, elevating conveyor, hopper with load cells, scissor lift, run-off conveyor and a simple control panel.
Machine Features:
Consealled load cells
Pneumatic retractable bag holding pins
Bag Hanging Pins adjustable for different width bags
Working platform for easy access to attach bulk bags
Complete machine can be disassembled for transport. Electical connectors for easy separation
Chevron continous Belt
Drag chain driven feeder bin for easy discharge of sticky, easy to bridge materials.
Machine Safety features include:
Emergency stop buttons and lines
Full guarding
Platform made to Australian Standards
Warning Siren (20 seconds) on start-up
Flashing light when working
Hungry board on feeder bin
Contact us on (02) 9631 6000 to make an enquiry OR