Bucket Bag Filler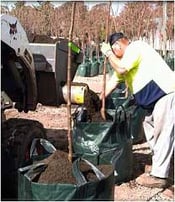 In nursery practice, the old method of potting up large trees into bags or large pots was performed using shovels adjacent to the soil bunker.
Staff then either loaded the bags into a skid steer bucket or onto a low-loader trailer where the re-potted trees were transported to the growing areas where staff then dragged the trees and bags off the equipment and into position.
Using shovels may have also damaged plants during the repotting process. It was a tiring and a tedious process, which required heavy lifting. This had the potential to cause a back injury that could impact on a staff member's future life, as well as cause workers compensation payments to blow out for the next 3 years.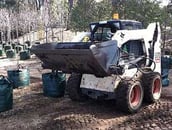 To solve this problem, C-Mac has recently in conjunction with a large tree growing nursery developed a new product called "Bucket Bag Filler". Trials have proved very successful and have greatly improved potting-up and bagging efficiency along with staff morale.

The skid steer "bucket bag filler" improved productivity from 60 bags per day to 100 bags per day
How does it work/the process?
See video below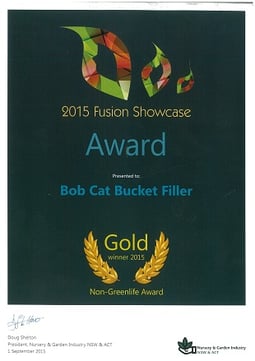 Attach the special bucket to your skid steer or bobcat. Connect hydraulic hoses with quick-connect couplings which provide rotation to the hydraulic gearbox and screw. Load your bucket with potting media, engage the hydraulics, and the soil is fed out the side of the bucket with a specially designed and supported screw conveyor. Soil moves out through the nozzle on the side of the bucket and fills the bag or pot.
Tamp down the soil and refill using the "Bucket Bag Filler" again
The bagging process is now all done in situ and only the skid steer returns to the soil bunkers to get buckets of soil.
Why use a C-Mac' skid steer bucket bag filler
High Quality
Short Lead Times
Sheet metal and engineering department provides back end support
In-house and experienced designers and draftsmen stand by
We look after our customers through quick response and delivery
Customisable and Flexible
Hook and unhook easily on skid steer equipment e.g. Bobcat
Quick coupling and connect the product to skid steer
Can be custom made according to customers' requirement
Safe
Less staff knuckle and back injury risk
Less tedious filling and potting jobs
Improves staff working conditions and moral
Minimises damage and stress to plants during the re-potting process
Click here for "Plant & Equipment Finance"
Contact us on 02 9631 6000 to make an enquiry OR