Our History
1962
Cliff McMaster commenced work in his garage making S/S exhaust manifolds as a hobby.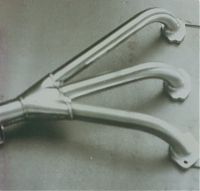 1964
Cliff & Margaret McMaster, at the age of 31, obtained a loan, purchased some machinery and formed a partnership – C & M McMaster.
Sardik Engineering & James Boyle plumbing being their first customers.
Moved to a dirt floored factory in Buffalo Rd, Gladesville.
1965
Moved to a factory in Devlin St, Ryde.
Making S/S sinks, drainers, special electrical cabinets as well as doing general sheetmetal jobbing work.
1966
30th November – Registered C & M McMaster Pty Ltd.
1970
Property at 72 Mandoon Rd, Girraween was purchased.
Aerolux Engineering became a major client in dust collector and rotary valve manufacture.
1976
Registered C-Mac Sheetmetal.
1978
Son Terry commenced work in office.
1979
Westacot Engineering at Rydalmere was purchased to enable manufacture of rotary valves.
Son Robert commenced employment.
Registered C-Mac Engineering in April.
Parramatta Tank Works was purchased at St Marys and modern manufacturing techniques were introduced.
1981
Registered C-Mac Industries (Aust) Pty Ltd.
1986
Parramatta Tank Works was relocated to the rear of 72 Mandoon Rd, Girraween.
Money from sale of St Marys land was used to purchase a C.N.C. Plasma Cutter.
Son Graham commenced working in the Sheetmetal shop.
1988
Obtained licence to manufacture T.S.A. Modular Liner Tanks – from Western Australia
Licence expired in 1993.
After several floods at Rydalmere, the property at 74 Mandoon Rd was purchased and Engineering was relocated next door to the Sheetmetal.
Son Kendall was engaged as accountant.
1989
October – purchased Lynfast Engineering.
1991
Lynfast Engineering was relocated to the rear of 74 Mandoon Rd.
1992
August – Terry had a fatal motor vehicle accident.
September – Daughter-in-law joined the company.
November – Graham left the company.
December – Cliff retired (What an upheval) and son Robert became General Manager. (Robert swept the dirt floor for pocket money in 1964).
1993
June – Margaret (Cliff's wife) retired.
September – consultants engaged for a company review and diagnostic.
1994
Registered C-Mac Engineering and Gearcutting combining Lynfast Engineering and C-Mac Engineering.
1995
Graham returned as P.T.W. Manager and the Company was restructured.
New computer system installed including bar-coded tracking of jobs.
1996
Celebrated 30 yrs in business.
1997
1998
Website established.
Nursery Division set-up.
First salesman employed.
Rehabilitation procedures introduced.
Participated in the Western Sydney Metals Network.
Y2000, GST and the Olympics for a distraction.
2000
Undergraduate Uni Student employed for Market and R&D work with Nursery Products.
5year SES contract won for bagging machines.
2001
Moved into upstairs office extensions (plans drawn in 1986).
Marketing consultant engaged.
Daughter-in-law Suzanne joined the business.
CAD introduced & decision to upgrade Arrow and SMP software made.
2002
Focused on nursery equipment and Grants for R & D obtained.
Staff changes managers & bookeeper retiring.
OH & S cultural changes. Toolbox meetings & risk accessments.
2003
Office in Northern NSW established.
2005
Parramatta Tank Works sold to the Water Tank Team.
2006
After running the Tankworks for ten years, Graham McMaster left the business and moved to Queensland.
New computer server and 3D software was installed and Qualified Engineer employed (first person to have a degree at C-Mac).
2007
Senior staff reduced and management structure changed due to financial difficulties.
Extensive renovation to staff facilities with meal rooms, kitchens and change rooms updated.
2008
New MRP software, M1 introduced.
Purchased business A.D. Spring and started manufacturing nursery benches.
3rd August – Director and Founder of C-Mac Industries, Mr Cliff McMaster, passed away.
2010
Maintenance Service Division setup specializing in IOT equipment.
2011
Employee Share Buyout of family business commenced.
New website design and SEO implemented
2012
Lean Manufacturing Training and implementation
First ever Marketing person employed
Advisory Board set-up
2013
April - New Vision and Strategic Plan developed by staff
August - Staff Committee established
Inbound Marketing implemented with Hubspot software
2014
2015
2016
November - 50 year celebrations - Family fun day at C-Mac
2017
April - Formation Meeting for C-Mac Industries (Aust) Co-operative Ltd. Decision to proceed.
May - company becomes totally debt free
July - Succession Plan implemented and C-Mac Industries (Aust) Co-operative operational with new ABN and structure with new Directors on the Board. The first "workers co-op" in Australia for 2 years
General Assembly, Board with external directors (2), Management Team, Staff Council structure implemented.
July - Sale Contract to Co-op and lease signed. C-Mac now 100% owned by 30 employees
Steve Grlyak became the new General Manager (20 yrs prior foreman of engineering workshop)
Robert McMaster (former GM and only family member) - semi-retires remaining as 1 of 5 Directors and working 1 day a week as a member of the co-operative.
2020 May - See news announcement here
C-Mac Industries (Aust) Co-operative Ltd accquired by new owner Matt and Jake and turn into

a family run business.

C-Mac Industries is no longer an employee cooperative,

changed company name to C-Mac Industries Pty Ltd

The new management plan is to expand while

exceeding your previous customer service expectations
Our commitment to our new partnership with you through C-Mac Industries is to ensure you get what you ordered on time and fit-for-purpose. We are proudly Australian made, owned and look forward to developing new innovative solutions for your needs.