Ezi Bagger Machine
Bagging Equipment
Filling bags or pots manually can be heavy and tedious work. Slow, inefficient, labor consuming and can cause injuries to backs and hands.
About 50 years ago, C-Mac started to manufacture bagging equipment to solve these problems!
Why fill bags by hand? Let the machine do the hard work.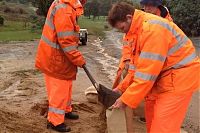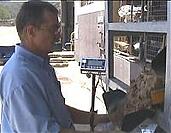 Why use Bagging Machinery?
Saves you time, earns you more dollars per ton of material by bagging. Produce more bags per minute to increase your production.
Increases your work efficiency and saves labor (cost) by filling bags quickly, accurately, and reliably. Personnel will spend considerably less time and won't mind filling bags. Staff can than be better utilised effectively elsewhere on site.
Minimizes operator fatigue, reduce risk of getting injuries.
Workers risk injury when undertaking manual repetitive tasks such as back injuries and knuckle injuries.
Filling bags without utilizing bagging machines, back injuries might occur when someone is bending while holding the bag and Knuckles injuries might occur when one person is holding the bag while another one shovels the material in.
See documents "Worksafe Safety Issues in nurseries"
Users of C-Mac Ezi-Bagger Machine
Landscape Suppliers - bagging product for retail sale
Road Construction - sediment traps / retaining walls / barrier weights
Production Nurseries - bag & pot filling / potting up into larger containers
Emergency Services - sand bagging for floods and storms
Recycling - bagging product for retail sale
Plumbing - sediment traps / retaining walls
Versatile
Caters for a variety of materials include potting mix, garden mix, grain, manure, sand, soil, gravel, stone, woodchip, scoria, stock feed, mulch, compost, stone, rock, pebble, sawdust, metal dust and many more
Fills a variety of pot sizes (from 75mm to 500mm) or bags (10kg to 60 litres)
Different sized chutes are supplied to suit a filling of varying size pots and bags.
Labor Saving
High volume: Allow a large volume of various materials be bagged or potted at any time
Efficient: Approx 500 25kg bags per hour (approx. 6-8 seconds per 25kg bag)
Simple to operate and minimal training required: Can be operated by just one person
Safe and Easy to maintain: Few moving parts to wear out
Minimize back strain: Comfortable work height (eliminate bending over)
Flexible and Convenient
Automatically or manual control using 240 volt current for operation

Preset timer
Actuated by operator foot pedal
Sets filling time for repeated bag capacity and consistent fill
Optional Automatic Scales (Cut off by weight)

Manual: Filling time controlled by the operator foot pedal

Automatic

Forklift guides fitted for easy movement to storage when not in use
Easy to feed with a standard skid steer loader
Mounted on trailer for pickup truck to tow
Quick sets up in just minutes
High Quality
Australian made product in Sydney NSW.
Made from galvanized steel.
ISO 9001:2015 Quality certified ensuring procedures are maintained and continuously improved.
Over 50 years manufacturing a reputable "Ezi Bagging Machine" supplied to landscape suppliers, Landscaping & Gardening Contractors and the Nursery & Garden Industries.
SPECIFICATIONS
For both Single and Dual

Hopper

Machines
Hopper – galvanised steel or stainless steel
Power supply – 240V, 10 amp
Manual control – filling time controlled by the operator foot pedal
Automatic control – set the electric timer, depress the foot pedal control and feeder will cut out at the selected time. It will not operate until the pedal is depressed again.
Galvanised hungry board included
Single

Hopper

Machine
Hopper capacity – 1.15 cubic metre
Overall Dimensions – 2.5m high x 1.8m wide x 1.2m deep
Hopper capacity – approx. 2.7 cubic metres
Dimensions – 2.7m high x 2.4m wide x 1.2m deep
Controls – Each side has individual controls which allow the two chutes to be used together or separately
2 different types of materials can be bagged or potted at the same time if a dividing wall (optional) is fitted
Dividing wall can be removed to allow bagging of double volume of product. 6.5 tonne per day is easily achieved with two operators
2 Rotary 'Bin Vibrators' to each hopper; adjustable vibratory speed controlled by a Variable Speed Drive
Optional Extras

Fertiliser Dibbling unit for Ezibagger


Nurseries and landscape suppliers usually have to add fertiliser with potting media, C-Mac has now developed a bolt on dibbling unit for our Ezi Bagger to meet customers' requestes.



Past practice has been to toss a handfill or scoup of feriliser on top of the mix after the pot has been filled. When filling buckets or doing any bagging, the manual process of adding fertiliser can now be replaced by the ezibagger filling machine.
The Ezibagger dibbling accessory allows nurseries to mix an accurate measure of fertiliser into media as it is being deposited into a bucket, pot or bag, giving it a even spread throughout the mix.

How it works (see video below):

This accessory must be purchased with your machine to have a interface with the electronic control box. Amount of fertisler dispensed is set by timer and speed on the control box

Fill the big hopper with potting media

Fill the small hopper (dibbling unit) with fertiliser

Place the bucket or bag underneath the tube

Press the footer pedal

The small auger feeder(motor) under the small hopper then feeds the fertiliser down the tube to mix with the potting media as it drops into the container

Pot, bucket or bag is filled

Use conveyor to deliver the filled container to one side


Restart the process (4) every 6 12 seconds depending on container size.
Specification

Dibbling unit capacity: 30 – 40 litters

Other specification: Same with Ezi bagger
Auger Feeder Unit for Ezibagger

W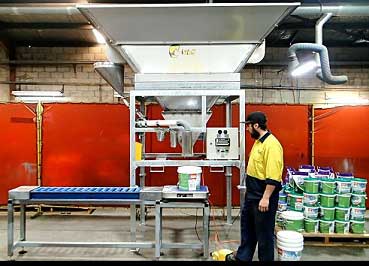 hen you have a powdery product and vibration isn't the ideal solution, C-Mac can now provide a screw conveyor that simply bolts on under the large receiving hopper.
The screw feeder is integrated with the PLC control box and can be set to run manually or on a set time or weight of product in container.

Specifications

Stainless steel body and screw

Screw diameter 104mm

Supported by auger unit attached to Ezi bagger hopper( be held to the hopper bottom via flange)

Safe from hands due to filling nozzle tee piece

Lid can be made for hopper

Various filling nozzles can be provided

Ezi Bagger for Hire
Power requirements:
240 volts, single phase, 10 amp rating.
Trailer Rating:
The dual axle trailer is rated for moving with full load. It is however recommended the unit to be emptied before relocation.
Tare weight: approx. 1 tonne. Aggregate weight: 2 tonne. Can be towed behind most utes and four wheel drive vehicles.
Trailer size:
Length – 4.0 m
Width – 2.1 m
Hire Rates

$200 plus GST per day
$1,000 plus GST per 7 day week
$3,000 plus GST per month
Longer periods TBA
Video Part 1 (transcript)
Video Part 2 (transcript)
Demonstration on how a cold mix tar product flows in the Ezi-Bagger
Contact us on 02 9631 6000 to make an enquiry about hiring or purchaseing the Ezi Bagger Machine from our depot in Girraween (Sydney), Australia OR Click here for discussion & FREE Quotation