---
C-Mac Soil Mixers

Mixing capacities available:
1/2 cubic metre
1 cubic metre
2 cubic metre
Larger capacities and variations on request.
Mix any combination of potting material such as sand, soil, wood shavings, peat moss, sawdust, chemicals, fertilizer, etc.
Features ´ribbon flights´ for mixing batches in less than 3 minutes.
Specifications
1/2 cubic metre capacity – 4 kw, 3 phase motor – dimensions: 1m wide x 1m long x 1.55m high
1 cubic metre capacity – 5.5 kw, 3 phase motor – dimensions: 1.3m wide x 1.3m long x 1.85m high
2 cubic metre capacity – 15 kw, 3 phase motor – dimensions: 1.5m wide x 1.5m long x 2.2m high
Motor can be set Right Hand or Left Hand to suit the customer
Body manufactured from painted 3mm steel
Easy opening adjustable slide gate
Safety mesh over main opening with auto cut off when pivoted open
Tie down lugs for safe transport
Spindle easily removed if required
Water drainage holes on both sides for washing out unit
Options
Slippers for forklift tynes can be fitted
Hungry board (350mm) is 2mm galvanised steel adjustable 90 degrees to suit fill position.
Mesh exit grate
Pasteurisation mixer - inject steam into media while mixing
Replaceable liner available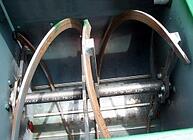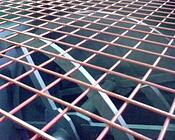 Heavy duty options available
'Ribbon flights' (mixing vanes) from bisalloy or with 'arc sprayed' front surface to 65 rockwell for long term durability.
ideal where using a crushed quartz mix.
Liner – 6mm bisalloy. Both body and sides are lined. ( 2 cubic metre only)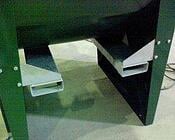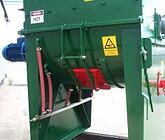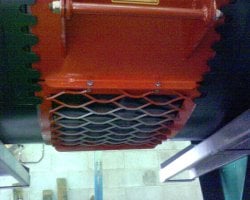 See soil mixer ribbon action:
Soil Mixer Price:
Click here for "Plant & Equipment Finance"
Contact us on 02 9631 6000 to make an enquiry OR