Gravity Bagger
Why use a bagging hopper?
Filling bags manually can be heavy and tedious work. Slow, inefficient, labor consuming, and can cause injuries to backs and hands.
About 50 years ago, C-Mac started to manufacture bagging equipment to solve these problems!
Why fill bags by hand? Let the machine do the hard work.
Reduced injuries risk
Save labor costs
No power required
Increase work efficiency
Earn more dollars by bagging
Users of a Gravity Bagging Hopper
Landscape contractors
Civil work contractors
Builders
Councils
Plumbers
Why Choose C-Mac Gravity Bagging Machines?
Versatile
Cater for a variety of free flowing substances such as sand, pebbles, stones, gravel etc
Standard sizes (See specification below) with many features.
Labor Saving
High volume: Allow a large volume of materials to be bagged at one time

Efficient

: Approx 500 20kg sand bags per hour (6-8 seconds for a 20kg sand bag)

Low maintenance

: No motors or drive mechanisms (No electrical power required)

Simple to operate and no training required

: Can be operated by just one person

Minimize back strain

: Comfortable work height (Eliminate bending over to fill bags)
Flexible and Convenient
Can be easily moved around with different plant equipment
Special steel angle hook feature (Easy for front-end loader bucket to pick up)
Use forklift tynes (Easy for load and unload off trucks)
Lifting eyes
Easy to fill with a skid steer loader
Quick set up in just minutes
Manual foot pedal control to fill bags when need.
High Quality
AUSTRALIAN MADE product in Sydney NSW
Strong: Made from heavy section BHP steel
Quality certified company ensuring procedures are maintained and continuously improved.
Over 30 YEARS reputable "Gravity Bagger Machine" supplied to Civil Construction Contractors, landscaping Contractors and Builders.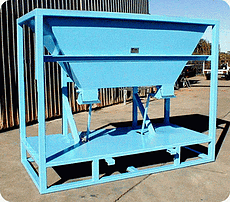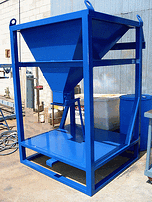 | | | | | | |
| --- | --- | --- | --- | --- | --- |
| | Nominal Capacity | Height | Length | Width | Weight |
| Single Hopper | 0.5 m3 | 2060 mm | 1400 mm | 1245 mm | 320 kg |
| Twin Hopper | 1.02 m3 | 2060 mm | 2400 mm | 1245 mm | 513 kg |
Enamel painted green or blue
Gravity Bagger Price

:
Optional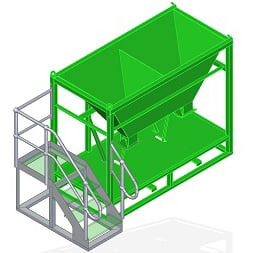 LH or RH access platforms complying to Australian Standards – bolt on
Method of Operation
Fill the hopper with material
Hook one side of the bag onto pins under the door-discharge
Hold onto the other side with your hands
Depress the foot pedal to open the door and to adjust the flow of the material
When the bag is full or you want to stop filling it just release the pedal and the door will close by itself
Unhook the bag off pins

Click here for "Plant & Equipment Finance"
Contact us on 02 9631 6000 to make an enquiry OR