Spring Benching
Propagation & Nursery Plant Benches Manufacturer in Sydney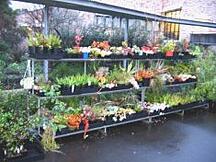 Quality nursery plant benches made by A D Spring for over 50 years are now produced by C-Mac Industries. A D Spring was closed and C-Mac Industries purchased all the stock, machinery, drawings and the rights to manufacture benches under the name of "Spring Benches".
Spring Benches Five Styles
SINGLE LAYER
DOUBLE LAYER
TRIPLE LAYER
2 TIER
3 TIER
Heavy duty galvanised steel tube 25.4 dia x 1.6mm thick.
Tubes are galvanised on inside and outside surfaces
Galvanised MESH TOPS – 75mm x 25mm x 4mm diameter mesh
Ergonomic shelf heights150mm, 750mm & 1350mm (from ground level).
See the sizes of our nursery plant benches here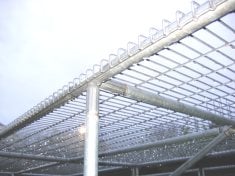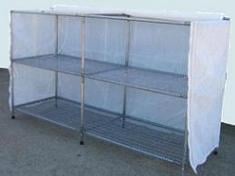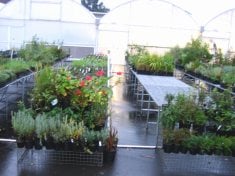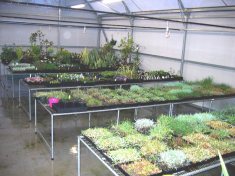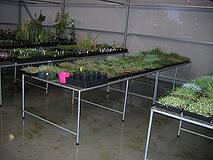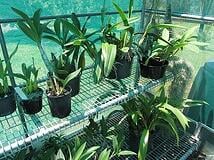 AUSTRALIA AND NEW ZEALAND PATENT NO. 551431
Users of C-Mac Spring Benching
Government department and businesses
Botanic Gardens
Councils
TAFE/Universities
Wholesale nurseries
Plant clubs and societies
Specialist nursery and vegetable growers
General Public

Plant Hobbyists

- Cut flowers, bromeliads, orchids and vegetable hobbyists (Certain vegetables best sown in seed trays on nursery benches then planted out at 4-6 weeks)
What are the activities and risks?
The Activities
Placing and retrieving potted plants on the ground or on benches for order picking, plant maintenance or moving.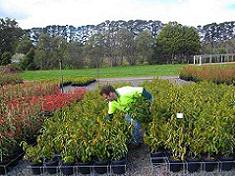 The Risks?
"Each year incidents in Australian workplaces result in:
A total of 133,188 employment injuries were reported in 2008/09
49% of all injuries in the Nursery & Garden Industry are caused by manual handling tasks.
Enormous pain and suffering for employees and their families. Therefore, these figures alone demand better workplace safety"
-- by Ron Widman, the WHS Co-ordinator of NGINA.
See full report written by Workplace Health & Safety Officer with Nursery and Garden Industry NSW & ACT – Nursery Papers
See full report from NGIV – Accessing Pots of Plants on the Ground or on Benches.pdf
See full report from WA Government Document-- Nursery and Garden Centres (information and check list).pdf
Why use nursery plant benches to grow & display your plants? (The solution)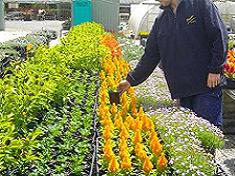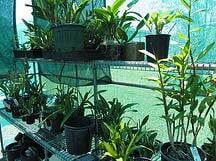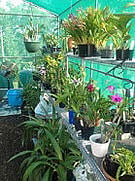 Using a proper nursery plant benching system to grow and display plants provides a series of benefits:
Reduces Injuries
Increase work efficiency
Job rotation can be used to

reduce repetitive tasks

amongst a number of workers
Better air circulation makes

plants grow faster

(at higher propagation rates).
Plants don't grow into gravel and

look better

.
Make full use of resources

Why choose C-Mac's "Spring" Nursery Plant Benches?
High Quality
Specially made

galvanized steel mesh and heavy-duty galvanized steel tube
Heavy-duty galvanised steel tube 25.4 dia x 1.6mm thick
Tubes are galvanised on inside and outside surfaces
Galvanised MESH TOPS – 75mm x 25mm x 4mm diameter mesh
Customized
Whilst we stock and sell 7x standard variants the flexible system is designed to be modular. If you have a project of at least 20x benches with a specific size requirement that doesn't fit our standard stock items let us know and we can arrange to build to your specification with a 6-week delivery.
Flexible
How easy is it to assemble C-Mac's Spring Benches?
Why should you choose C-Mac's Nursery "Spring Plant Benches"
C-Mac's "Spring" plant benches come with better quality, good ergonomic working height and greater width so more plants can be placed on them.
Many existing customers kept coming back to C-Mac to purchase additional nursery plant benches due to the benefit, features, quality, longevity and service that C-Mac's benches provide.
"Wow! Spring benches are all in place and we are very pleased and happy.
Matthew and Sunil did a great job and were very kind and helpful. Cheers!" ---- Anne
*Please note:
WE ARE CURRENTLY UPGRADING OUR SPRING BENCH MACHINERY AT OUR SYDNEY FACTORY SO 8 WEEK LEADTIME CURRENTLY APPLIES. WE EXPECT TO BE ABLE TO SUPPLY EX STOCK WITH A STANDARD 1 WEEK DELIVERY BY APRIL 2021
Would you like to get more information on the specific nursery plant benches we manufacture in Sydney, please visit our Shop. Purchasing it on our online shop can always lead to faster dispatch.
Alternatively, you can
Other nursery equipment such as potting bench, Shade house, and Trailers, which also reduce risks of getting injuredd and increase work efficiency are also available.