Rotating Table
What is a Rotating Table?

Rotating tables or accumulating tables help you temporary store pots and plants without having to stop your production line because your conveyor is full. Its round design allows easier access for unloading.

Making production more efficient and less stressful.
Why use Rotating tables in nurseries?
Rotary tables minimise stopages in production, minimise walking, reduces the need to rush and panic if staff or equipment are not available immediately. Gives flexability in your production.
Here are some of its uses in plant nurseries:
Holding trays for pricking out
Used as a potting table for potting up small quantities
Holding plants or trays ready for potting up on a potting machine
Holding soil

Temporary staorage at the end of a take-off conveyor on a potting machine so plants don't fall off the conveyor end onto the floor.
Why choose C-Mac's Rotating Table?
C-Mac's roating table is fully customiseable. It is made in Australia is simple and durable lasting for many years.
Getting the work place better organised, reducing bottlenecks using rotary tables maybe the solution you are looking for.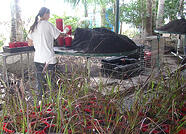 C-Mac's Rotating Table Features
The table is 1.82 metre in diameter.

It has an adjustable height to suit your operator or existing equipment. Simply relocate the pin to do this.
The table top is manufactured from 3mm galvanised steel.

It has robust construction.

It is simple and easy to use.
Rotating tables can help in maximising space and reduce bottlenecks and production stopages.
If you are considering to get a rotating table, contact C-Mac today and ask for a quote at the bottom of this page
Uses:
Holding trays for pricking out
Use as a potting table for potting up small quantities
Holding plants/trays ready for potting up on a potting Machine.
Holding soil
Pot accumulation
Contact us on 02 9631 6000 to make an enquiry OR