Trough Benches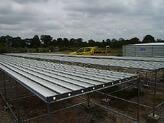 Trough Benches is one of C-Mac's custom built, made to order horticultural benches for subirrigation systems. Continuous lengths of gutter and manufactured in DIY or kit benches using the "Spring Benching System" makes for easy installation.
Trough Benches are also known as "Gutter Subirrigation" or "Trough Subirrigation" benches.
What is Subirrigation?
Subirrigation is a method of irrigation where water is delivered to the plant root zone from below the soil surface and absorbed upwards. The excess may be collected for reuse.
In general used for potted plants, there are three basic systems:
Ebb-and-flow benches and trough benches,
Flooded floor systems.
Closed, recirculating subirrigation systems,
Ebb-and-flow
In this system, Bench-mounted tray enclosures holding pots are filled and then drained. The system consists of a shallow, molded plastic bench top which is flooded with water and fertilizer to both water and feed the plants.
When irrigation is complete, the remaining solution drains from the bench and is pumped back to a storage tank.
Flooded Floor
In this system, Special sloped concrete flooring is flooded and drained.
The entire floor of the greenhouse is covered with concrete carefully designed and installed to pitch toward openings in the floor. Through these openings the irrigation solution enters to flood the floor and, following flooding, the excess drains back to the storage tank.
Trough
In this system, water flows through bench-mounted, slightly sloping troughs containing pots. The trough (gutter) is placed on benching that is pitched slightly from the inlet to the outlet end. This helps water flow by gravity.
This system works by running a film of irrigation water down a slightly inclined, shallow metal trough (gutter) holding the plants. The troughs empty into a return channel for recirculation. The pots or flats in the trough have plenty of opportunity to absorb solution as it runs past.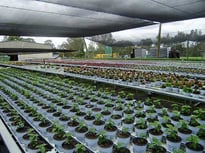 Why use Trough Bench Subirrigation System?
Cost effective

Existing bench frames can be retrofitted.
The productivity of system is maintained at a high level due to

70%-80% space saving

in greenhouse and the reduction of labor, water, fertilizers and chemicals etc.
Usually trough benches payback time is 2-3 years rather than 5-10 years by choosing other subirrigation system.
Trough Irrigation versus Traditioanl Overhead Watering in a commercial greenhouse operation
Why use C-Mac Trough Benches?
High Quality
Specially made color bond trough (gutter) and heavy duty galvanized steel tube.
Extremely strong and light weight
AUSTRALIAN MADE product.
C-Mac Industries is ISO 9001:2015 Quality certified ensuring procedures are maintained and continuously improved.
Customized
SPECIAL MADE TO ORDER possible because C-Mac Invests heavily on modular "Spring Benching" system which allows for flexibility in design.
The troughs can be obtained in various lengths and widths from C-Mac.
All your special orders are at a minimum cost, because the advanced technology of manufacturing the product requires NO ADDITIONAL SETUP OR EXTRA LABOR COSTS.
Flexible
Easy to assemble.
Supplied in kit form (minimize transport costs).
Other nursery equipment such as potting bench, Shade house, Trailer, which reduce risk of getting injury and increase work efficiency and production are also available.
Contact us on 02 9631 6000 to make an enquiry OR