Nursery & Plant Trolleys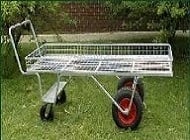 Transferring heavy garden tools and supplies from one place to the other can be a tiresome task. Using a nursery and plant trolley is the most efficient way to transport various items in a nursery or garden, with back injuries and other relevant injuries minimised.
What are nursery/plant trolleys?
Plant trolleys are useful nursery equipment for nursery workers and gardeners especially when they are working on a major gardening project. They are usually made from mesh to allow easy drainage.
Nursery trolleys have a flat bed. Optionally they can have sides that can be folded down. It can be manoeuvred with built-in handles.
A nursery trolley can be used to carry gardening supplies such as tools, bags of soil and plants. It can also be used to transfer soil mixes and weeds to their designated place.
Considerations for choosing a nursery and plant trolley
Space requirements and other environmental factors
Consider the area where the plant trolley will be stored since they are usually bulky. Check if the garden or even the nursery field has enough space where the nursery trolley can move around easily.
Other environmental factors such as distance, floor gradient, floor surface or floor condition should also be considered.

Design and utility
Nursery/plant trolleys can have 2 or 4 wheels. They have level bottoms and straight sides to easily load items such as large pots and stones.
Heavy-duty nursery trolleys are appropriate for carrying heavy loads such as wood pile and concrete garden trimmings. Contrarily, small plant trolleys are perfect for holding smaller plant pots and garden tools.
Stability while transporting
To ensure stability during transporting, a nursery trolley should have quality tyres. Most heavy-duty plant trolleys come with pneumatic tyres. These are ideal for outdoor use and perfect for nurseries with rough landscapes.
Stacking and moving of items
An appropriate height for the nursery/plant trolley is required to minimise bending and other injuries when moving garden items.
Ease of movability
Moving a nursery/plant trolley can be difficult for nursery staff and gardens with cramped isles and small spaces. It can also be challenging to pivot on a patio. Plant trolleys with easy manoeuvrability are always preferred.

Quality of the product
Always opt for a nursery/plant trolley that is sturdy and has the best build. Look for the one that has a good handle grip, sturdy frame, with robust wheels.
Choose the right material for construction. Galvanised mild steel is ideal for frame durability, strength & lightness. The frame should also be thick and strong enough to hold heavy loads and rust-resistant.
Why should you choose C-Mac's Nursery and Plant Trolley?
C-Mac supply nursery trolleys that have an ergonomic design and can withstand the harsh weather in Australia. They are strong, durable which make them perfect for small nurseries and even larger wholesale growers.
Exceptional customer service
We have provided excellent customer services to our clients for over 50 years. Their committed staff can assist throughout the selecting, purchase and delivery process, striving for best customer satisfaction.
Fast turnaround is one of the competitive advantages of C-Mac Industries. We even have an online shop which allows you to place any orders instantly for fast dispatch.
What to do next
If you have issues regarding transporting garden supplies, a nursery/plant trolley may be a good solution.
Any question, just contact C-Mac's Nursery & Materials Handling Equipment Sales Personnel on (02) 9631 6000 or click here for discussion and a free quotation.
For fast dispatch, please visit our Online Shop to place an order now.
For more product details, click here