Low Loader Self Tracking Trailer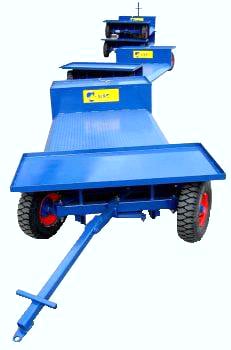 Self tracking trailers follow the path of the prime mover.
C-Mac low loading trailer helps solve the issues with moving large plants.

Manoeuvre a train

of several trailers down narrow paths, around corners and trough entrances of potting sheds & dispatch areas.
No expensive bobcats or qualified drivers required to move large pots.
Frees up bobcats for more important tasks.

Reduces

running time & maintenance

costs

on bobcats.
Low capital investment.
Low loader can carry 20 off 75 litre pots per load
(bobcat carries 3 per bucket or 5 per pallet per load).

Minimum lifting

saves on potential injuries.
Specifications
Very strong unit
Tray (main) 1.2 m wide by 2.4 m flat base
Overall length 3.650 metres
Clearance- 100mm
Deck height 200mm
Wheel diameter 440mm x 100mm (fork tyres)
Turning circle- 8 metres diameter
Can go from a 2.5 metre wide path to a 1.5 metre path
Distributed load weight: 1980kgs
Total low loader weight: 340kgs
Total weight for non-highway applications
(Fully loaded, at a max speed of 20 kmph): 2,320kgs
Clearance is not a problem!
Template drawings are available so customers can check clearances and cambers on roadways.
Options

Hinged side ramps secured with heavy duty pad bolts
8" turf tyres


Question:
Can you move fifty 100 litre pots with tall trees over a distance of 150m in 1 hr and not get a sore back? These trailers will let you do it.