---
Electromagnetic Vibration Feeder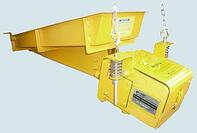 Vibratory Feeders provide an efficient and economical method of conveying bulk materials and offer a simple and easy means of controlling their rate of flow.
Rugged and dependable – Manufactured and proven on C-Mac Bagging Machines for many years.
Typical applications include feeding to packaging, batching, mixing, drying and similar applications.
Flow-extraction from silo / hopper
Flow-regulation for weighing equipment
Flow-feeding for / in process lines Feeding weighing scales
Dosing powders into mixing machines
Spreading material over wide conveyors
Maintaining constant flow into/feeding bucket elevators or conveyors
Packaging equipment
Metering product from bins or hoppers
Food processing and chemical industries, plastics, metal parts, chemicals and ceramics
Hot and cold materials are easily handled.
How C-Mac's Vibration Feeder works
A Feeder consists of a Trough attached to a drive via Leaf Springs within the drive the trough is vibrated at high speed by an electromagnet inside the drive. The magnet pulls the trough sharply down and back – then the springs return it up and forward to its original position.
As the trough is pulled back and down, the material falls vertically to a new position forward in the trough. This action repeated at high speed causes the material to flow.
Features
Extremely accurate feed rate controls are an additional benefit of the electromagnetic feeder. These highly reliable feeders are rated for continuous duty and provide a constant feed rate even under varying head loads and with different material characteristics.
Variable speed control
Large openings prevent bridging
No moving parts for operator's safety
Very low maintenance requirements with few moving parts, no lubrication or greasing. Maintenance is kept to an absolute minimum.
Quiet operating
Low power consumption
Encased in dust-tight housing
Stainless Steel Chute
Specifications
C-Mac vibrating unit model cvu-180l
Overall sizes of Vibrator and Chute: Length: 1050 mm Width: 355 mm Height: 350 mm
Max. Material Feed Rate: 60 m³ per hour
High frequency – 3310 VPM at 50Hz
Stroke – 1.5 mm
Suspension mount Brackets
Power: 240 volt/50 Hertz
Current rating 1.5amps
Prime coated and painted safety yellow
Options
Hoppers can be made to suit customer specifications for the electromagnetic vibration feeder.
Contact us on 02 9631 6000 to make an enquiry OR