"Beantree" Dispatch Bench
What is "Beantree" Dispatch Bench?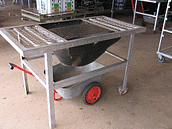 The "Beantree" Dispatch Bench is a piece of nursery equipment designed to provide improved efficiencies for nursery persons in their dispatch area.
You can have a well-organised dispatch area with the use of "Beantree" Dispatch Benches for preparing, labelling and staking product for dispatch. By using its steel mesh bench top, you slide pots on mesh to remove any protruding roots which fall down through the hopper into a bin.
When removing weeds, dead foliage etc, the rubbish can be easily dropped into the hopper at both the front and rear of the bench top. This minimises hand movements and twisting by the operator.
Mounting holds are provided for hooking on holders for hand tools, labels and stakes.
Set up a number of benches in the configuration to suit your despatch area the lift up one end and wheel the benches away when you are finished, freeing up floor space for other jobs.
Its ergonomic height makes nursery staff feel comfortable at work, it improves nursery operation efficiency.
Why choose the "Beantree" Dispatch Bench?
C-Mac has been manufacturing specialised and highly reliable, durable nursery equipment for over 50 years. To improve increase your floor space area in dispatch, C-Mac developed this reputable product in partnership with an Australian nursery.
It was designed by a nursery person, "Liz" from Beantree Nursery who had many years of experience preparing plants for dispatch. Hence the "Beantree" Dispatch Bench which we believe can provide a good solution to your dispatch problems (see below).
Reasons to have these "Beantree" pre-delivery benches:
Keep dispatch area

organised and clean

Flexibility in layout of benching can be changed to suit different situations

Benches can be easily wheeled away to provide open space for nursery tasks in your shed

Multiple benches can be placed together end to end or back to back

Easy removal of roots by rubbing the pots across the steel mesh

All waste falls through the holes into the bin under the bench

Minimal hand movements & body twisting by dispatch staff

Easy

disposal of cuttings

Ergonomic work height
You can contact C-mac today for further information. Click the yellow button below for the prices and ask for a free quote now.
To get a quality s"Beantree" Dispatch Bench despatched to you ASAP?
Contact us on 02 9631 6000 to make an enquiry OR