Garbage Bin Trailer
What is a Garbage Bin Trailer?
Garbage bins are temporary containers for filling with commercial and domestic waste materials that need emptying regularly. Garbage bin trailers are usually unpowered vehicles towed by a motorised tug.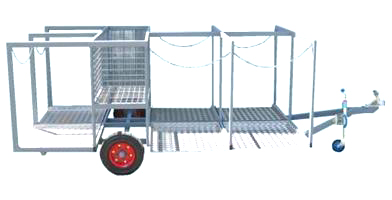 These trailers allow you to handle and move garbage bins and solid wastes easily and efficiently.
How many bins and how many times do you have to drag a garbage bin out the front of your property each week to get it emptied?
This specially designed trailer allows you to carry 6 bins in one trip, saving time, effort and potentially saving on any potential back injuries.
Move your garbage bins around your property without a hassle!

What is the use of Garbage Bin Trailer?
Garbage bin trailers help workers deliver waste bins to the rubbish pile or the front of your property for pick by council contractors. They save time and effort when moving a filled 240-litre garbage bin to and from a waste collection area. These trailers includes a special basket for placement of loose garbage or tools.

It is a simple method to haul garbage bins with this ergonomic design. Garbage bin trailers carry trash and waste containers with ease.
Why choose C-Mac's Garbage Bin Trailer?
C-Mac's garbage bin trailers are specifically made for large properties with bins located in multiple locations that need collecting for emptying.
Floors at each bin location pivot / tilt so bins can be easily wheeled onto the trailer without lifting. Safety chains hold the bins in place.

With many years of experience, C-Mac has provided innovative garbage bin trailers to solve waste disposal problems for aged care facilities, retreats, holiday resorts and golf courses.
Trailers are made light weight for easy towing and are made using quality materials to ensure a long life.
C-Mac being the manufacturer can customise the trailers to suit customer needs.

You can also choose from the following options:
Rotating warning lights

Alternative hitches

Mud guards
C-Mac's Garbage Bin Trailer Features
Specifications:
Overall sizes: 3350 long x 1515 wide six (6) bin capacity

1200mm total height from floor to top frame

Bins secured with chains

Aluminium chequered floor plate


Flooring tilts to a 40-degree angle for loading sulo bin.

Mesh storage area above wheels for brooms, shovels etc.

Jockey wheel

Standard ball coupling

Heavy duty RHS steel frame

Heavy duty solid wheels with tapered bearings

Can be towed behind any tug, cart or car (trailer not registered).

Drawbar has a goose neck so trailer tows level.

Easily towed

Weights only 280 kgs.
If you are interested, you may contact C-mac now or check the garbage bin trailer price below and ask for a free quote.
Click here for "Plant & Equipment Finance"
Contact us on 02 9631 6000 to make an enquiry OR