Towing Trailers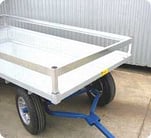 C-Mac's towing trailer is also commonly known as a self tracking trailer.
Our towing trailers are suitable for use within your private property where you have to move items around or transport goods from one place to another. However, these towing trailers are not registrable for road use.
Overall, it is easy, efficient and much safer using these four wheel tracking trailers to move goods and materials around.
They don't cut corners! Where you drive is exactly where these trailers will follow.
Where can the towing tailers be used?
Towing trailers are suitable to be used in
Nurseries
Garden centres
Farms
Resorts & Retreats
Transportation company depots
Warehouses
Emergency Service sectors
Government departments
Corrective services
Schools/TAFE/Universities
Councils
Event management companies
Airports
Sporting clubs (football, cricket……)
Wherever there is a need to transport goods or equipment around a site
How C-Mac's towing trailers work?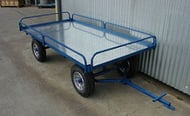 The trailer's self-tracking system is specially designed and has a proven track record of following the exact path of the vehicle towing i.e. mini-tractor or tug that is pulling the trailer.
A linking bar connects the front and rear axles. When the front axle pivots, the rear axle pivots in the opposite direction.
The rear wheels track in exactly the same position as the front wheels, eliminating any tendency to cut corners and possibly damage walls, stock, plants, gardens etc. (Click here to see details of how our towing trailers work)
When multiple trailers are connected in a train all the trailers will follow in exactly the same path.
C-Mac's existing towing trailers customers
Various

wholesales nurseries and Garden Centres

use the product to carry plants, potting media and equipment.
Purposes built towing trailers (self tracking trailers) have been made to carry multiple (6)

garbage bins

for a school in Sydney. Saved many kilometres of walking putting out and returning wheelie bins when emptied on garbage nights.

Large transport (truck) company

uses our trailer to move goods easily within their premises and improved their work efficiency.

Football club

uses the towing trailers for putting out and packing up sports equipment. Special wide wheels were utilised to protect the turf from wheel marks. The towing trailers were seen being used in the grand final on TV.

Fire Rescue Service

USA. Carrying goods and equipment around grounds onsite.

Cricket club

uses the trailer to put out equipment and carrying tools for grounds maintenance work.

Event Managers

– Carrying sound equipment into playing arena's and back out for entertainment during intervals at football matches.

Accommodation Retreat

for carrying luggage between accommodation bungalows.

Airpor

t to carry tradesmen maintenance equipment.

Hobby farmers

to carrying tools and feed for animals.
Purpose built towing trailers to carry food for corrective service.
Several

warehouses

to carry products/goods.
Why Choose C-Mac's towing trailer?
| | | | |
| --- | --- | --- | --- |
| Self Tracking Towing Trailers | Standard | Delux | Low Loader |
| Load Capacity (Max) | 675kg | 1245kg | 2320kg |
More information on C-Mac Towing Trailers, please click here