Potting Trailer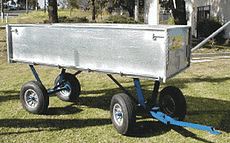 What is a Potting Trailer?
A trailer is towed behind a tug and is generally of simple construction to carry extra heavy or large product or tools. Trailers have been made for all types of applications.
"Potting Trailers" have been designed for nurseries to carry potting medium to a location out in the field or within a shed.
When folding down the sides a clear table area is provided for working at an ergonomic height for filling trays or pots with the soil being carried in the trailer.

What are the uses of Potting Trailer in the nursery?
Using potting trailers is a simple method of moving potting media directly to where it is needed.
Pot or fill trays in situ. save on double handling and reduce placing out transport times within the nursery

You can also transport green waste, rubbish, tools and other products to other places without a hassle. It can save you time and effort especially in moving materials to a destination that is at the other end of your nursery.
Potting trailers are used as a potting bench for filling trays, tubes & pots with soil media and greenlife. Pots and trays can be carried on top of the soil.
This trailer has been ergonomically designed with the nursery person in mind.
Why choose C-Mac's Potting Trailer?
C-Mac's potting trailers have evolved and improved over the years with feedback from customers and improved manufacturing techniques. Optional brakes and canopies can be fitted.

C-Mac has been manufacturing robust potting trailers that have endured many years of testing and use around the nurseries. Trailers having actual car wheels that are guarenteed to carry your load.

C-Mac's Potting Trailer Features
Specifications:
Capacity – 1 cubic metre

Dimensions – 1.0m wide x 1.36m high x 2.6m long

Height of work bench above ground level - 800mm

Galvanised body – 1.0m wide x 0.5m height x 2.44m long

Both sides hinged down for your ease and convenience

Wings at end of benches are hinged and fold out to prevent soil spillage

Open working area when sides down: 2.4m x 2m wide

Draw bar folds up when not in tow and held in place by a chain, so staff don't trip over the draw bar.

Having a potting trailer will make your nursery potting jobs less stressful.
If you are thinking of getting a potting trailer today, you can check C-Mac's price list below. Just click on the yellow button now, and fill out the form to request the trailer price list.

Potting Trailer Price: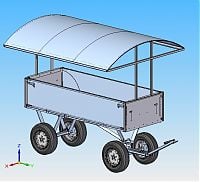 Click here for "Plant & Equipment Finance"
Contact us on 02 9631 6000 to make an enquiry OR