Self Tracking Trailers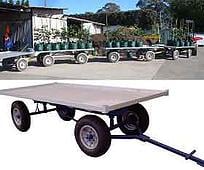 Self tracking trailers have a self tracking wheel system. The trailers follow the path of the mini-tractor or tug that is pulling the trailer. Multiple trailers can be connected one behind the other.
Self tracking trailers are used in the following industries:
Nursery & Horticultural – pots & plants e.g. garden centres and plant wholesale nurseries
Small Farms for carrying hay bales, tools etc
Sports Clubs
Tennis complexes, football grounds, athletics ovals, golf courses, cricket clubs.
Leisure Retreat and resorts for carrying luggage and travel bags
Entertainment – carrying sound equipment
Rescue & Emergency services – sand bags
Aviation – small airports
Industrial warehouses and maintenance departments
Corrective Service – Food transport
Other specialty applications
Tugs - What to pull the self tracking trailer with?
Tractor large and small
Quad Bike
Golf kart both electric and fuel engines
Small cars or utes
By hand over short distances on good surfaces (hand bar provided on draw bar)
Tug sizes are dependent on number of trailers to be hitched together, weight of loads, downhill braking, terrain, hills, gullies and slopes, distances to be travelled and turnaround times. Versatility required of tugs e.g. people movers, lawn cutting, and soil moving or is it going to be used solely for pulling trailers.
Always give consideration to being able to stop when going down hills with a load of trailers behind.
C-Mac, as a standard and custom designed self tracking trailer manufacturer, makes high quality self tracking trailers with a variety of options to choose from.
To get a quality a self tracking trailer despatched to you ASAP?
How does C-Mac Self Tracking Trailers work?
Below is the principle of our self tracking trailers for turning and tracking accuracy.
a. Front and rear axles are joined together by a linking bar so when the front axle is pivoted the rear axle is pivoted in the opposite direction. This means the rear axle wheels track in exactly the same position as the front wheels.
b. When several trailers are attached the following trailers follow or track in exactly the same path. Not cutting corners, so the last trailer will not hit walls or plants when being towed. Where ever you can take your tug the trailers will follow.

c. Biggest disadvantage is that the trailers cannot be reversed so a drive through situation is always required.
C-Mac Self tracking trailers available options:
All our products are completely customisable with such options as:
Pot rails or Side rails

Stop potted plants from falling off the deck especially on rough tracks/roadways and pathways
When staff dive hard, fast and recklessly
Height of rails made to suit the customer pot size

Drop down sides
Deck height extensions (Deck size can be adjusted/raised to suite your requirements e.g. use trailer decks for potting, save bending)
Brake on front wheels
Non self tracker – fixed rear axle
Ball couplings to suit car tow bars
Double and triple decks (deluxe trailer only) - Improve efficiency by minimising the number of trips putting pots out or returning for dispatch
1. NOTE: heights between decks can be varied during manufacture to suit your plant heights and pot sizes
2. Do not over load your trailer
Word of caution with multiple decks, load weights is very high above centre of gravity and trailers can roll if not driven carefully and on level ground. Tyre pressure is critical.
Why Choose C-Mac's "Self Tracking Trailers"
Contact us on 02 9631 6000 to make an enquiry OR
---