Valve Bagging Machine/Bag Filler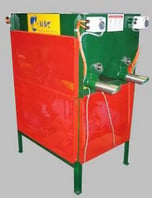 There are many semi-automatic or automatic valve bag fillers in the market, but few manual valve bagging machines are available.
It costs a lot to purchase a automatic valve bagging equipment, when you only need to to fill low volumes or special products into valve bags or socks you can get the investment back within a shorter period of time if you purchase a manual valve bag filler.
How does valve bagging equipment work?
With no stitching or plastic welding, valve bags automatically seal after being removed from the valve bag filler nozzle, this minimises spillage and reduces or minimises dust issues.
A sealed valve bag also prevents the content in the bag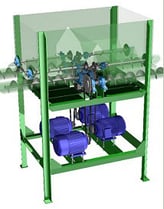 from leaking or sifting out in the process of transportation or storage.
Below is the bagging/filling process:
An empty valve bag is inserted onto the filling tube/nozzle of the machine. The tube/nozzle penetrates through the open sleeve into the interior of the bag, the feed screw within the nozzle, when activated by the foot pedal transfers product into the bag.
In some cases, bridging problems may occur in the small holding hopper, so a bridge breaker shaft and paddles above the nozzles/tube/screw help to solve this problem.
Once the bag is completely filled, the material contained in the bag pushes the one-way valve closed, with the sleeve functioning as a check valve to keep the product from leaking out.
Which materials can the valve bag filler cater for?
Dry, bulk solid powders ingredients and granular products. Most are dusty products such as aggregate, sand, soil, dirt, mulch, stone, seed, or minerals, agriculture, grains, feed cement, concrete mix, grout, fertilizer chemical and many more.
Why Use a C-Mac valve bagging machine/bag filler?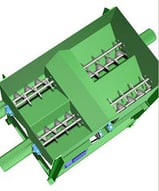 C-Mac valve bagging machinery are simple no thrills basic machines that fill/bag the required amount of product into the valve bag in an efficient manner. Valve baggers can be used in various industries including landscaping, building,packaging, farming and many more……
Customisable – Design and manufacture to meet your specific requirement
Expertise – Market leader in manufacturing bagging/filling equipment
Australian Made – High quality products
Specification
4 Outlets for simultaneous bag filling - 4 motors (a separate motor per outlet nozzle)
Steel Frame with perforated steel guarding for safety
Nozzle/tube sizes made to suit customer bags (e.g. can be used for filling spill socks with coir)
Mechanical screw feed system with breaker shaft and paddles
Small holding hopper capacity – Over 200Litres in
Fill sensor
Holding hopper usually filled from feeder bin and intergraded with fill sensor
Foot pedal to control start and stop
Power - 415 volt supply
Speed - Fills 25 litre valve bag of powder in 45 seconds
Simple to use – connect to the power and start!
Optional
Stainless steel hopper
Bag scale - Load cell with electronic control
Manual roller conveyor with height adjustment
Operational Process
Load material into hopper
Manually insert valve bags/socks onto filling nozzle.
Use pedal or button control to start and stop
When bag or sock is filled, manually remove from nozzle
Call us on (02) 9631 6000 for inquiry or