Deluxe Trailer Options
We support all trailers we sell so if you need a spare part call us on 96316000.
Did you know that our deluxe trailers have a range of drop on or bolt on options to add versatility to the base platform?
Additional deck levels
Increase the usable area of the deluxe self-tracking trailer
Increase the usable area with two, three or four removable decks.
Standard Extension legs give 1m extra height.
Additional Decks can be placed at any height in increments of 50mm
Heavy duty galvanized steel frame.
2mm Galvanised Steel (standard) deck surface or Steel Mesh (option)
Supplied in "flat pack" form to minimise freight cost
Drop Sides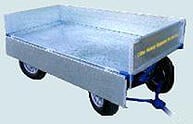 300mm high sides are hinged and removable, similar to a box trailer, but with four wheels.
Ideal for use around the farm, garden or nursery
Ideal for larger pots or unstable loads
Brake on front wheels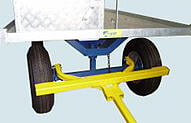 Brake on the front wheels when the draw bar is dropped to the ground
Wide tyres
Special axles can be made to accommodate wide tyres and rims.
Sandy applications
Minimize wheel tracks on turf or synthetic grass
Non self tracker – fixed rear axle trailer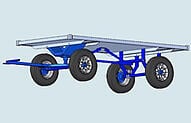 Ideal for use around the farm, garden or nursery where multiple trailers in a train are not required.
This trailer can be backed like a normal box trailer.
Standard or deluxe trailers can be made with rear axle fixed.

Side rails

150mm high rails Stop large pots from falling off trailer if roads bumpy, steep or operator drives fast.
Ball couplings for draw bars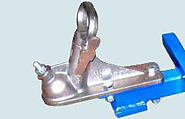 Ball coupling attachments for the draw bar adapt to fit onto towbars for versatility
Potting Hopper