Custom Designed Conveyors
We can provide a full service from design, construction, assembly and testing to delivery and installation of the finished product. Combining all three workshop capabilities allows C-Mac to manufacture to suit customer specifications.
Mechanical conveyors, use a gearbox and drive motor with conveyor belt or chain systems to move materials and productis, usually open to the elements. Conveyors can be enclosed if necessary.
If you're moving moist, granular materials of variable consistency such as gravel, wet sand, grains, recycled goods, objects or components and foodstuffs, mechanical conveyors are the best option.
Below are a few samples of C-MAC Industries custom designed mechanical conveyors.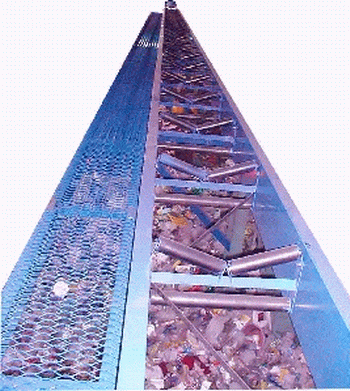 Recycling Conveyor
Conveyoring is an important part of any recyclable sorting process. By utilsing the recycling conveyor, a mix of collected items can be spread out for inspection and be transfered from an entry point to a final waste point, with sorted products being removed along the way.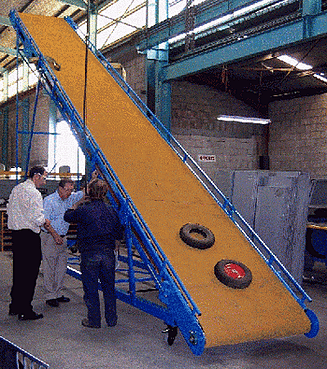 Large Conveyor
This conveyor is used for tyre processing/recycling plant. The tryres are lifted up and then dropped/feeded into a shredding machine for reprocessing of the shedded rubber.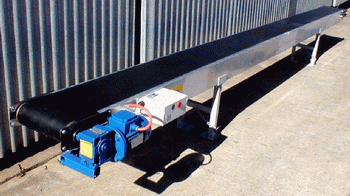 Pot Conveyor

It is used as a portable internal transport system for potted plants within a wholesale nursery

Indoor or outdoor use
Control box with motor for speed control and emergency stops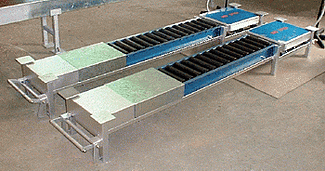 Static Conveyors
Not motorised, these conveyors have been fitted with scales and customised for use on the C-Mac' Ezi bagger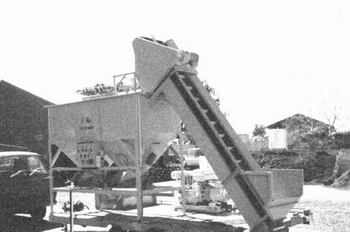 Double Hopper Conveyor
Forerunner of a mobile Ezi bagger – built and designed by Cliff McMaster 30 years ago. See the latest version here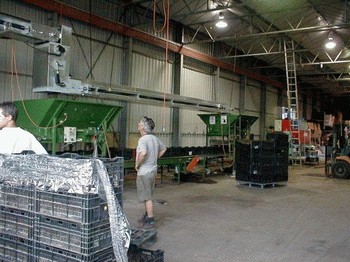 Transfer Conveyor
1. Sycronised with multiple feeder bins to fill plastic boxes with mushroom growing media.
2. Discharges into feeder bin on demand utilising level sensors.
Gooseneck Conveyor
Used to fit under a low profile, close to the ground discharging machine. An alternative to having two (2) conveyors.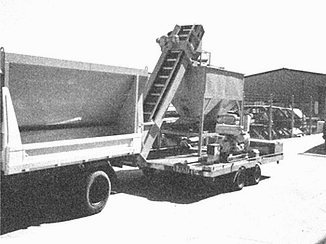 Discharge Elevator
In the old days contact potting was tried. The potting contractor would supply the soil/potting mix and potting services to nurseries.
Conveyor under hopper on truck discharges potting media onto the elevator conveyor (mounted on the trailer) which filled the potting machine on demand.
Contact us on 02 9631 6000 to make an enquiry OR