Pallet Racking
What is Pallet Racking?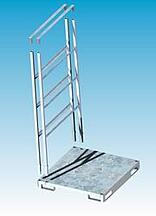 Pallet racks are used for transporting your greenlife so they fit efficiently on the back of your trucks. Made to a standard pallet size and liftable by a forklift from the side of the truck or a pallet trolley on the back of the truck.
The main advantage of utilising this pallet racking is that it can increase your loading capability and improve efficiency in organising your loads.
What are the uses of Pallet Racking in nurseries?
Transporting green life efficiently by having flexibility on how your move, gain access and unload your pallets.
When pallets are unloaded and returned to the truck, drivers are able to disassemble the rack to maximise storage on the truck. Vertical posts are removeable to one side (extra holes in base of pallet) where the plywood shelving can be stored between the two up rights. This gives clear acces to walk past empty pallets on the back of the truck. Also provides space when backloading non greenlife product.
Very economical when you are storing your racks in the dispatch area or warehouse awaiting further use.
Why choose C-Mac's Pallet Racking?
C-Mac with the help of nursery greenlife transport companies designed and developed this product with the nursery man in mind and the difficulties encountered when handling pallets when delivering.
C-Mac's pallet racks are also durable (hot dipped galvanised) with high load capacities.
Shelves are plywood and are normally supplied by the customer to keep costs down.
C-Mac's Pallet Racking Features
Specifications:
Size (l x w x h): 1170 × 1170 × 2200 mm
Can be disassembled for clear walking access through truck
Base has no protrusions to minimise walking trip points
Can be disassembled to minimise storage space
Allows for fork-lift loading of truck from rear or side loading
Suitable for moving by pallet jack when rear loaded
Pallet can be moved by 2 people easily if forklift not available
Made from strong duragal steel
Weights: side rack – 18kg, base only- 60kg, tie bar – 2.5kg assembled weight = 101kg
Company name welded on pallet base
500mm shelf spacing
Plywood shelves stack between up-rights for storage
18mm plywood shelves (not supplied)
Click here for "Plant & Equipment Finance"
Contact us on 02 9631 6000 to make an enquiry OR